Inviting and elegant at the heart of the city, Rotterdam Hotel is the leading hotel in Rotterdam, The Netherlands.
Rebranding to Rotterdam Hotel in the 2nd quarter of 2016, this hotel was looking for a partner that could supply and support guest facing technologies like Wi-Fi, Internet Access and Interactive TV.
INTERNET & TV
Nonius provided a tailored solution for Guest Internet Access including NONIUS.HSIAappliance, Wi-Fi Management, Ruckus Access Points and Controller.
High Speed Internet Access is available in all of the 230 guest rooms, lobby, public areas, restaurant, bar and meeting rooms.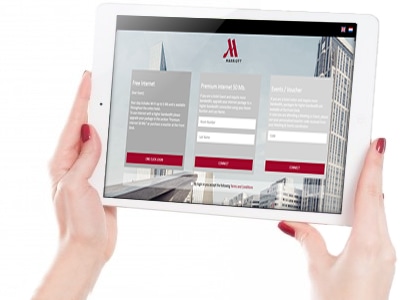 VIP guests are automatically connected to 50Mb up and download speed.
Meeting and event attendees will have access to a separate wireless network and their own captive portal for login through a voucher code.
All rooms were equipped with the NONIUS.TV Interactive TV System comprising LG high-end hospitality LED TV's and 55" curved OLED displays in the presidential suites. A total of 5 Nonius IPTV gateways were installed to provide 100+ digital TV channels. Each Guest Room was fitted with bluetooth media panels that allow the guest to connect their own devices to the TV (BYOD), wired and wirelessly, and play their own content (BYOC). The meeting rooms include a 70" LG LED displays for optimal viewing comfort.

The success of this project was only possible thanks to a great collaboration between the hotel IT staff and Nonius that worked straightly together in order to bring the most advanced hospitality technology.
"After an extensive selection process, we chose Nonius to be our partner for guest-facing technology. We were looking for a technology partner to manage the implementation of 256 TV points and 65 Wi-Fi access points, during the renovation period. Nonius gave us the confidence that they can handle such a big operation and provide us with the necessary support. Thanks to their excellent cooperation with partners like Huawei, Infotheek and LG, Nonius was able to provide us a reliable Guest Technology platform for the years to come. After the Wi-Fi and TV systems were implemented, the overall guest satisfaction increased immediately. We are confident that we've made the right decision and look forward working with Nonius for years to come."

Peterpaul Hoeksema

IT Manager Rotterdam Marriott Hotel