Nonius partners with IHG to supply state of the art guest Internet access and interactive TV systems for the new IHG room concept.
The Intercontinental Hotels Group (IHG) has reinvented the guest room experience at its Crowne Plaza Brugge, Belgium, with a little help from Nonius. The 24/7, always open, unit caters to a high number of leisure travellers who require a restful productive and relaxing stay. Focusing on these three drivers, the group now delivers a uniquely designed room with the latest and greatest in Nonius technology – allowing travellers to connect, work comfortably and get a good night's sleep when they really need it.

Featuring Nonius' NONIUS.TV connected TV experience for in-room entertainment and media, and NONIUS.HSIA for blazing fast Internet connectivity, paired with a 42-inch LG TV, you'll get a true multimedia experience in the room, and still have your "nook" to work in, without the clutter of your traditional guest room. The rooms themselves are sound-proofed to keep you focused on work, and on your rest.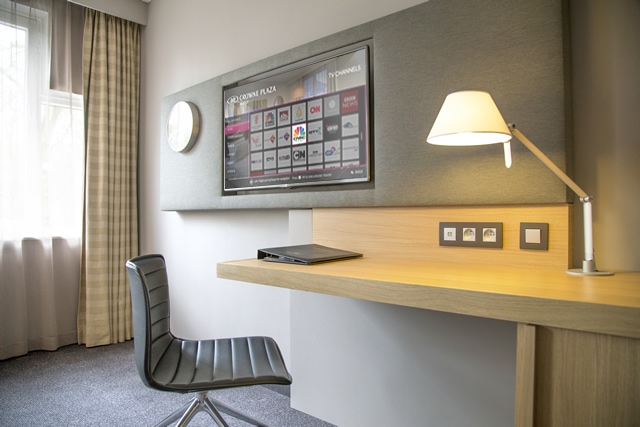 The Crowne Plaza Brugge is the first hotel at the IHG to break with the past and feature this new room concept. However, more units will be making their way to the Americas later this year, the first of which in Atlanta, Georgia.