TV Headend for TV Channels in any type of system and signal
The managed TV Headend for signals anywhere in the world and for robust and cost-effective TV deployments in all Hotel segments and any other property.
Schedule a Demo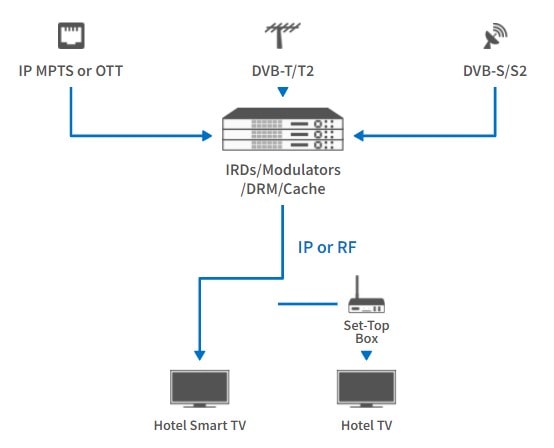 Managed linear channels delivery
We will build you the right combination of free and subscription-based channels to fit your property and your guests/visitors profile. Includes the design, equipment, installation and support services to deliver TV channels to the guest room and public spaces. Trust us to provide you the right path to migrate to the streaming and OTT services that are coming to the market!
Our local/regional TV partners bring you the best content for your guests' profile and the required content protection.
Count on our installers to make sure your channel distribution infrastructure is properly set up and robust.
Designed to be robust, cost-effective and simple to deploy
We design, develop and produce every appliance in-house. But what does each equipment do?
DVB/IP Gateway
Allows you to receive TV channels traditionally or the ethernet. The signal is sent to the local IP network to be available on Hotel TVs.
IP/IP Transcoder
Provide HD content to legacy SD support devices and real-time transcoding of HD IPTV streams up to 4 inputs.
HDMI/IP Encoder
Converts HDMI sources making it available on an IP network. Ideal to convert video from TV set-top boxes and other HDMI outputs.
AV/IP Encoder
This unit captures all digital signals from external TV operators and transforms them into IP format for availability on the Hotel's IP network.
Request a Quote
OTT/IP Gateway
Perfect to add content that cannot be sourced from local TV operators. Those international channels that you desperately seek to satisfy the diversity of guests you receive. Reduce the downlink footprint by relaying all the TV/STBs requests through an OTT Gateway, centralizing your TV feeds into one place. Guests won't utilize the Internet downlink while watching TV.
DRM/CAS Gateway
This is an important device that guarantees the rights of authors and content operators when distributing them to hotel TVs or STBs. Its purpose is to restrict the illegal distribution of protected content.