Mount Nelson Hotel & Spa signs up Nonius to provide a 21st Century 5-star service.

Extending its partnerships in Africa, Nonius is providing the Mount Nelson Hotel & Spa with NONIUS.HSIA.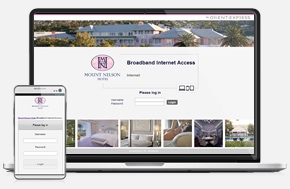 This iconic centennial hotel combines Colonial-era architecture with 21st Century guest service and is set into the heart of Cape Town, South Africa. The hotel is major landmark in the city, and a tourist attraction featured in many Hollywood productions.
Apart from illustrious guests of world-fame such as Agatha Christie, the Dalai Lama or John Lennon, it is a multiple award-winning hotel and one of the top 5-star hotels on the continent.
With this in mind, and working in narrow cooperation with hotel management, Nonius' engineers and local IT partner ensured a smooth cutover and transition to the new state-of-the-art platform which will provide all hotel guests with a 5-star experiences on par with the hotel and its reputation.
"The Nonius device that we are currently using is the WGS5000. It allows us to control who has access to our Guest Internet and what access they have (bandwidth speed, data useage and time limit).

From a guest point of view they will experience the benefit of having a controlled Internet environment which will allow an even and fair distribution of Internet bandwidth to all users connected. This means that even with the hotel at high occupancy each user will be able to receive a fair portion of the guest Internet and have a more enjoyable Internet experience.

The device also allows us to prevent unwanted users (e.g from surrounding buildings) from accessing the Internet and consuming the Internet bandwidth which is dedicated to our guests.

We have also installed an interface from the Nonius WGS5000 to our PMS system, this means we can create a more personalised touch for our guests when they logon to the Internet because a personalised username and password will be generated for them upon check-in. They will only need to logon once to the Internet during their stay as the system will automatically disconnect them upon checkout."

Douglas Turner

IT Manager