This 5* luxury resort near Siem Reap in Cambodia becomes the first Nonius customer in Southeast Asia.
This elegant property is just the latest addition to the burgeoning France based, Zannier Hotels. According to "Travel+Style", an online travel magazine showcasing prestigious, exotic, sophisticated, and conscience-driven luxury, Phum Baitang ranks #11 on the top 50 Hottest Luxury Hotel Openings of 2015.
The solution was provided in partnership with the Singapore based SolarWind, a turnkey Hospitality System Integrator. Together, the firms deployed a full IP NONIUS.TV and ICT infrastructure at each villa in the luxury resort to elevate the in-room entertaiment experience to be on par with the quality and service demanded by its exclusive clientele. "Choosing to work with Nonius for our projects was an obvious choice. Their IPTV solution is one of the most versatile and feature rich on the market. Above the quality of the product it is also Nonius' team and the quality of their support that sets them apart. On our latest project, Phum Baitang, our requirements went beyond the typical IPTV offerings for hotels. Nonius was the only IPTV provider who could raise to the challenge and deliver a spectacular product. Going forward it is clear that Nonius will be our select partner in all our projects", said Dan Daniels, CEO of SolarWind.
The Nonius Interactive TV solution, utilizing the Samsung H-brower platform, enables Phum Baitang to better communicate and reinforce its distinctive, luxury brand directly to guests via the in-room TV, through a personalized GUI – graphical user interface. It delivers a unique selection of information and entertainment content that helps Phum Baitang to promote its services and amenities.
The final touches on the project included customized, stylish remote controls by Ruwido and JBL soundbars to provide to pitch-perfect audio. These 3rd party enhancements were fully integrated with the NONIUS.TV solution in order to provide seamless interaction for every guest using the in-room technologies at his or her disposal.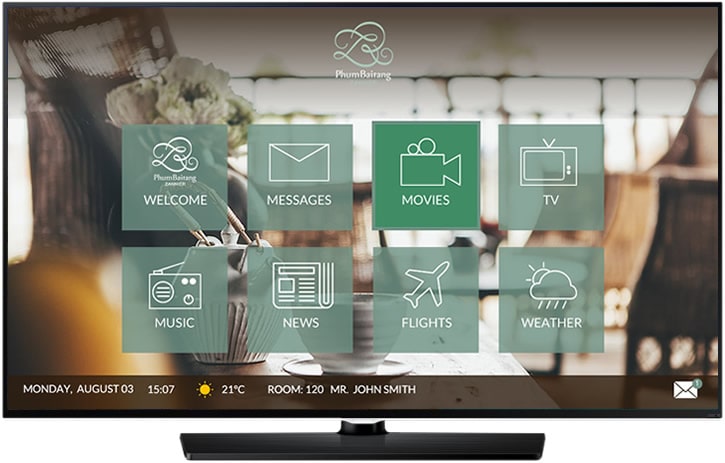 According to David Ashworth, General Manager of Phum Baitang Resort, "The decision to use the Nonius TV Solution was simple; we wanted to have the most up-to-date and reliable interactive TV solution for our guests. One that would provide a unique guest experience and deliver our luxury brand message through easy access to TV channels, Video on Demand and real time information, via seamless interaction. Although Nonius had no other customer in Southest Asia, we were impressed by their drive and solid client base in other parts of the world, their service record and above all their leading success in reinventing the guest room experience throughout the hospitality sector. We are proud to partner with them and be the first 5 star resort in Southeast Asia to become a member of the Nonius family".
This deployment was made possible, in part, by Nonius newest technology partner – Exset – that provides the content protection and digital rights management services for emerging market TV operators. Although, the project timelines were very tight, Nonius and Exset were able to develop and implement a Nonius headend solution without jeopardizing the hotel's opening. This joint integration allows Phum Baitang to provide its guest with a broad array of high quality TV channel that caters specifically to the tastes of discerning international travelers.
"We are very pleased to work with Nonius on this project. Our technology is designed to allow a wide range of services to be delivered across communications networks. Working with Nonius, we believe brings tremendous additional quality entertainment options to guests at the resort in a cost-effective way,"

Andrew Pons

Global Director of Sales and Marketing from Exset