Cloud Signage from Nonius simplifying operations by cutting costs on posters and leaflets, and enhancing the atmosphere in the hotel public spaces.
Nonius and Turim Hotels have been working together over the last few years, with the goal to provide guests with top-notch TV services and Wi-Fi connectivity.
This long lasting partnership allowed Nonius to develop new products and features that match three distinctive offers from the hotel group: in the City, in the Countryside and at the Seaside. Our last joint project focused on Guest Journey, Corporate Communication, and Signage, yielded an innovative Digital Signage solution, which was deployed at all 12 properties and still continues to achieve great results. The solution takes advantage of in-room TVs and public area displays to create a unified, pervasive hospitality-specific marketing and sales environment that elegantly showcases the hotel's brand, while keeping guest well informed about services in an unobtrusive manner.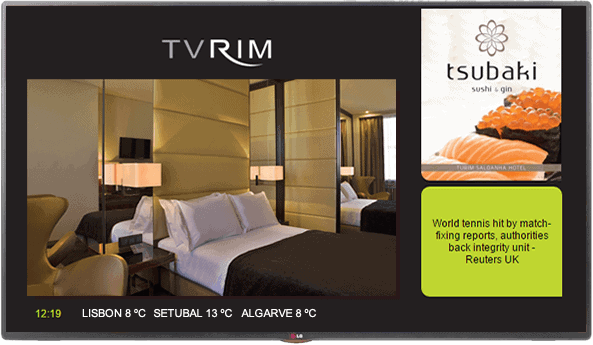 Nonius Cloud Signage Solution is cost-effective, due to the low power, easy to install, low maintenance set-top box player with all content managed in the Cloud.
This solution offers the guest real-time information about the hotel, services, promotions, events, local tourist attractions and flight schedules, improving the quality of their stay.
Many operational saving can be achieved including: reduction of paper and printing costs, plus savings with staff time and effort used to maintain manual paper based services – everything is managed in the cloud! Hotels will benefit from the streamlined communication with the guests, but that's only part of the story. The Nonius Digital Signage Cloud platform plays a critical part in the guest journey by linking technology to engagement, guests will stay updated about offers and events; thereby, increasing satisfaction and loyalty.
Nonius offers a comprehensive signage solution that is tailored for hotels in all segments. We do this by, listening to our clients' needs and wants, then we incorporate this feedback into a signage solution made just for the property or group needs. There is a vast array of layouts and templates to choose from so, if your hotel is in need of a fully customized, flexible and easy-to-use signage solution, just call us. We're here to help!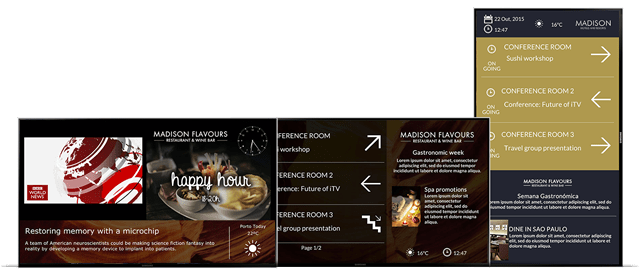 Nonius would like to extend a special thanks to Turim Hotels for its collaboration and contributions, which was paramount to the successes of this product launch.