After being selected as the preferred vendor for Guest Internet Access, Nonius is delighted to announce that it was selected to provide IPTV solutions for Belmond's iconic hotels.
Nonius has been working with Belmond since 2008 and thanks to the high standard level of service, proven by the successful Guest Internet Access deployments in more than 17 Belmond hotels around the world, Nonius was selected as Preferred Vendor for Hotel IPTV systems by Belmond.
Back in 2016, Belmond El Encanto in Santa Barbara, California, USA was the first Belmond hotel to received Nonius Interactive TV System, featuring High definition IPTV channels, real-time Interactive Programing Guide, Guest Directory, Welcome Message, among others.  In addition, Nonius developed custom feature such as: Belmond promotional videos triggered on check-in and open TV on last viewed channel – to deliver a solution exclusively for Belmond needs.
From a value-for-money perspective, Belmond El Encanto had made previous investments in Connected TVs that were still ahead of the next technology refresh cycle; therefore,  the timing was not right to replace them.  However, the Nonius multivendor TV platform works on all major Hospitality Connected TVs including both the latest and legacy models. This allowed Belmond Hotels to take advantage of all the great features with no need for extra equipment like set-top boxes.
Since the success of the first project, Nonius has delivered Interactive TV services in other Belmond properties in Africa and Asia using the latest models of TVs from Samsung, LG and Philips.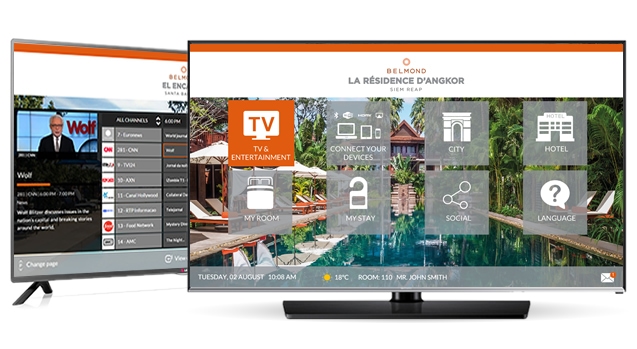 The Belmond portfolio includes a exceptional set of 46 hotels, trains and cruises worldwide across a vast array of countries. This creates a major challenge to ensure TV services are both high quality and consistent, which are on par with brand standards.  Factors such  as disparate vendor TV platform and CAS & DRM technologies varying by both country and TV operator requirements can be a great source of pain for building and maintaining a TV system for the long term. Nonius was able to meet this challenge head on to ensure that Belmond Guests will experience the same great entertainment, information and HD TV experience worldwide.
Belmond has been partnering with Nonius since 2008 and one of the key reasons behind this special relationship is Nonius' ability to cope and integrate Belmond's special requirements. Nonius is once again thankful to the Belmond Ltd. for selecting our team to be Belmond's Advance Global Hospitality Technology Service Provider. In closing, the entire Nonius team looks  forward to collaborating on future technology innovation projects.
About Belmond
Belmond Ltd. is a global collection of exceptional hotel and luxury travel adventures in some of the world's most inspiring and enriching destinations. Established almost 40 years ago with the acquisition of Belmond Hotel Cipriani in Venice, the Company owns and operates 46 unique and distinctive hotel, rail and river cruise experiences in many of the world's most celebrated destinations. From city landmarks to intimate resorts, the collection includes Belmond Grand Hotel Europe, St. Petersburg; Belmond Copacabana Palace, Rio de Janeiro; Belmond Maroma Resort & Spa, Riviera Maya; and Belmond El Encanto, Santa Barbara. Belmond also encompasses safaris, six luxury tourist trains including the Venice Simplon-Orient-Express, three river cruises and '21', one of New York's most storied restaurants.