A partnership with local partner SIDLatam to deploy a state of the art Multiscreen TV, Mobile app, Guest Internet Access, Wi-Fi and Digital Signage solutions.
Boulevard Suites Hotel (BSH) is a property with extraordinary views of Santiago and the majestic Andean mountain range that offers a unique and exclusive experience for a business trip or quite simply for just a vacation stay.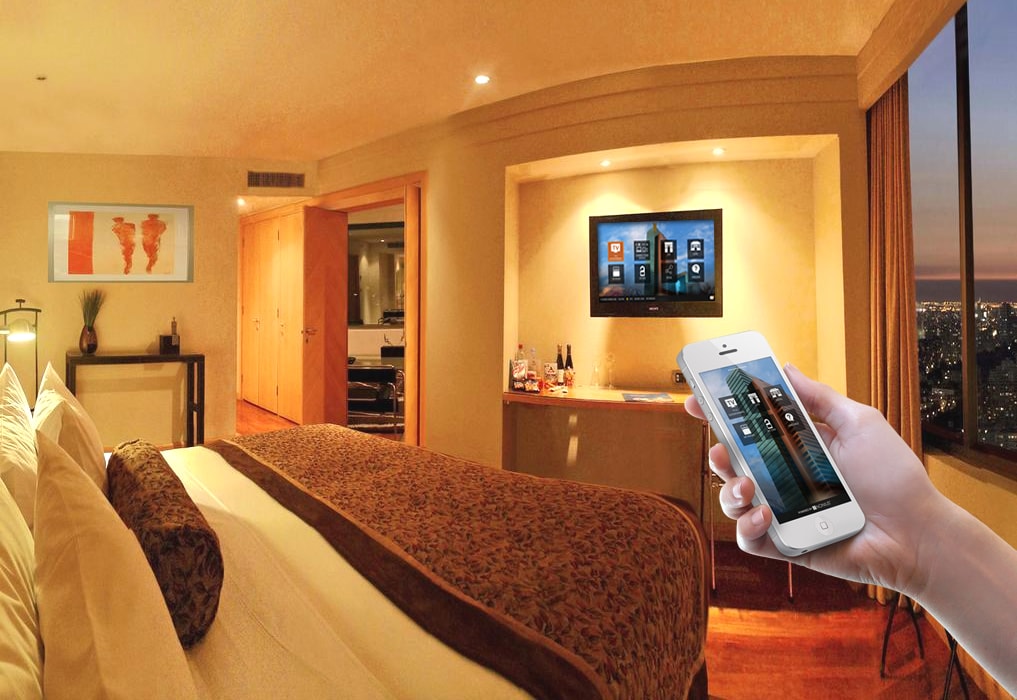 SOLUTIONS
The Guest technology solutions for this hotel were provided in partnership with the Chile based SIDLatam, a turnkey System Integrator. Together, the companies deployed a full IP TVand content, GIA (Guest Internet Access), Digital Signage, Mobile app and Network Switching infrastructure to elevate the guest experience responding to the demand of business and leisure clientele alike.
Multiscreen TV and Mobile app solution
The 60 Suites of this property were equipped with Smart TVs from Samsung (2 or more TV per Room), as well as the Common Access Areas and 3 Meeting Rooms.
The Nonius Interactive TV solution utilizing Samsung TVs, with the H.Browser platform, enables the hotel to better communicate and reinforce its distinctive brand, directly to guests, via the TV and through a personalized GUI – Graphical User Interface. It delivers a unique selection of information and entertainment content that helps the Hotel to promote its services and amenities.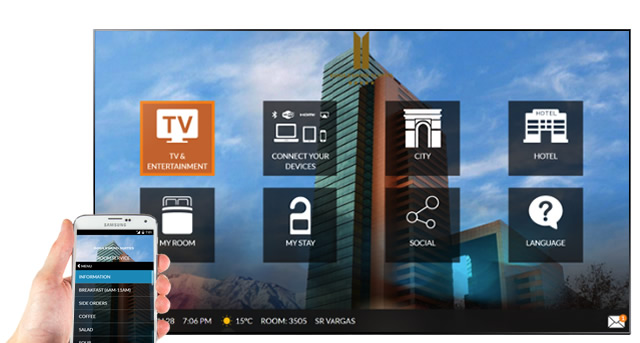 This system provides Miracast screen Mirroring and it's integrated with Connectivity panels, so guests can stream their own content in the TV (BYOD/BYOC).
Guests can download the Nonius Mobile App, which is fully customized for the Boulevard Suites Hotel.
Through an intuitive user interface, Nonius Mobile App offers a variety of services like hotel information, room service ordering, tourist attractions, weather information, flights schedules, etc.
In addition, the Interactive TV System and the Mobile App, enables the Hotel to communicate with their guests in real-time to both the TVs as well as to the guests own mobile devices.
Guest Internet Access, Wi-Fi
The Wi-Fi system system was modernized to improve coverage for any device and allowing capacity for multiple guest devices.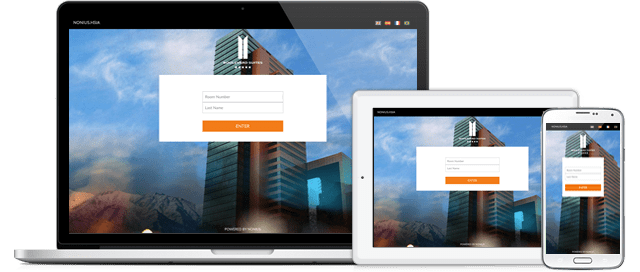 Digital Signage

In the conference rooms, reception and lobby, the Nonius Digital Signage solution informs guests about ongoing activities and scheduled events.
Dashboard
BSH has access to the Cloud dashboard and can see status, alarms, usage and statistics about all Nonius solutions deployed at the hotel.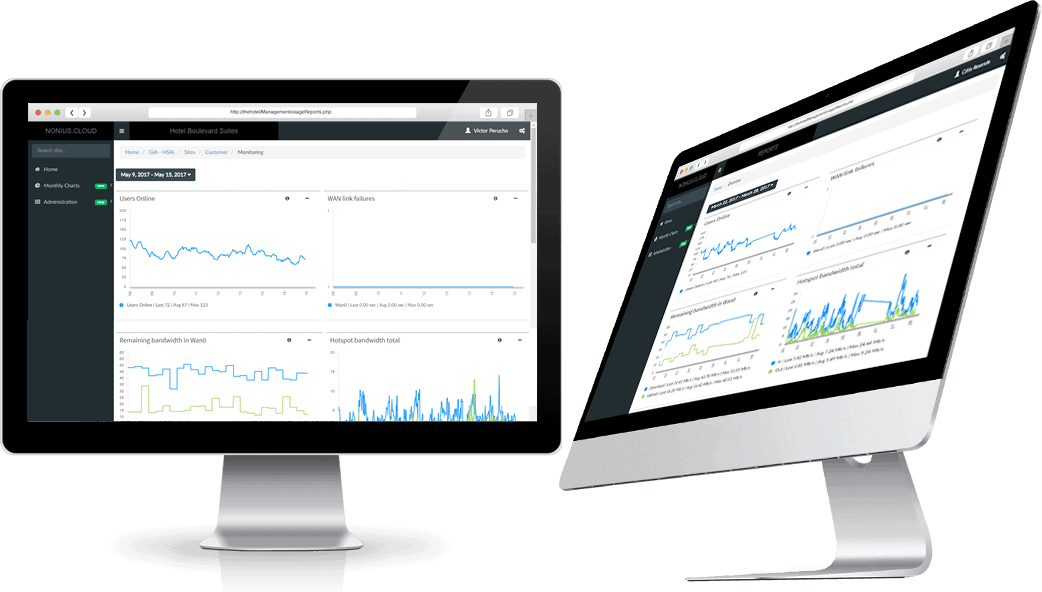 "Nonius' solutions allow us to provide our guests with a superior technological experience meeting their requirements and offering a great service. We are now delivering a wide range of options for their entertainment and getting their instant comments and suggestions. As a hotel brand it gives us prestige and allows us to present ourselves as a highly technological option leading the interactive hospitality."

Claudio Gonzalez Mejias

Operations Manager at Boulevard Suites Hotel
This project was deployed by our local partner SIDLatam who installed the system with Nonius support and provides the hotel with local maintenance and technical assistance, as well as to other Nonius customers in Chile.
Nonius and SIDLatam partnership offers clients added-value solutions and services for the hospitality industry with specialized resources in networks, IPTV, Mobile Apps, VoIP, Wi-Fi (GIA), Signage, using the most advanced tools to meet guests' needs and satisfaction.
"First of all, as SIDLatam, we are very proud to represent Nonius in a exclusive way in Chile; and of course, to have signed a long-term, relationship with Boulevard Suites Hotel (BSH), the first deployment in Chile with Nonius' complete technology offer. Nonius technology will allow BSH to be more efficient and cost effective, because BSH can now satisfy guests' needs and reduce some of the unnecessary room service costs.
Another major benefit from using Nonius, comes from the fact BHS receives the feedback from their guests through the Online Guest Survey available on the Mobile App and on the in-room TV. With this implementation Boulevard Suites Hotel is the first hotel in Chile offering to their guests this kind of leading edge hospitality technology."

Oscar Solari Sayago

CEO at SIDLatam
ABOUT SIDLatam
SIDLatam is a company that integrates and markets digital products and services in order to deliver solutions that improve the quality and experience of use for end customers. We are experts in Digital Signage & Hospitality, in Chile, and the exclusive representative of the prestigious international company Nonius. We offer our clients technological solutions that enable hotels, clinics, cruises and camps to offer state-of-the-art digital services to their clients. Services include voice and Internet communications, infotainment, multimedia solutions and installation, management and maintenance services, etc.