Nonius Internet Access, Wi-Fi, Digital Signage, IP Telephony and TV system upgrade to NONIUS TV | H-Browser Edition.
Hotel Perola is a 4 star Executive & Business hotel in the city of Praia, Santiago Island in Cape Verde that recently underwent a comprehensive renovation. In partnership with Nonius, the hotel implemented the most advanced technological solutions to offer its guests a superior experience and to become a reference in the Hospitality of Cape Verde.
SOLUTIONS
GIA/WI-FI
Nonius deployed a Wi-Fi Internet solution for guests via Wall APs in the rooms, providing excellent signal coverage and multi-device connection.
Nonius gateway is the core equipment of this solution that allows the Internet service management and optimization of bandwidth for both the corporate network and the guest network.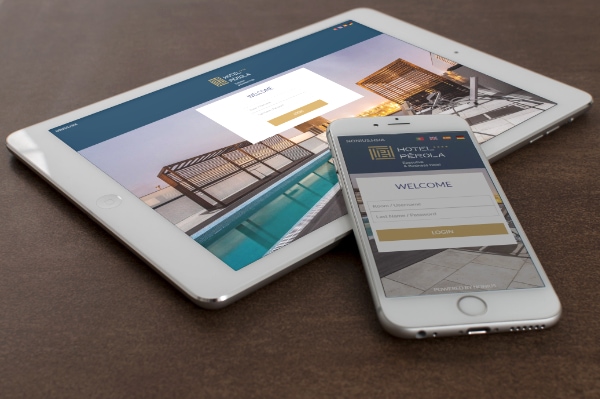 DIGITAL SIGNAGE
Static paper based information and signage was replaced with Nonius Digital Signage solution, developed exclusively for hospitality.
From a single screen, customized to the hotel's image, various information is available such as weather, news and hotel's services and promotions.
IP TELEPHONY
The existing VoIP server has been replaced by the Nonius VoIP server, maintaining all IP terminals, which represents significant investment savings.

The core of this solution is the Nonius IP-PBX that relies on IP technologies and has been designed with hotel-specific features and functions. It has the ability to integrate with the Hotel PMS for taxation, voice mail, wake-up service, room status update (cleaning and minibar) and activation / deactivation upon check-in / check-out. In addition, it allows the definition of call rates and the detailed reporting of calls made by both guests and staff.
INTERACTIVE TV
The hotel upgraded the Interactive TV solution from the manufacturer to Nonius' interactive TV solution while maintaining the current Samsung 590 and 690 TVs, specific for hospitality.
Nonius TV solution leverages the Samsung H.Browser platform, an IP-based open platform that enables Systems Integrators, like Nonius, to provide fully customizable web browser solutions and to take the maximum advantages from the TVs.
Nonius' solution guarantees the robustness and flexibility that the hotel was looking for, by integrating with the hotel's PMS – Wintouch – customizing the guest's stay with individual experiences like offering personalized content according to their profile.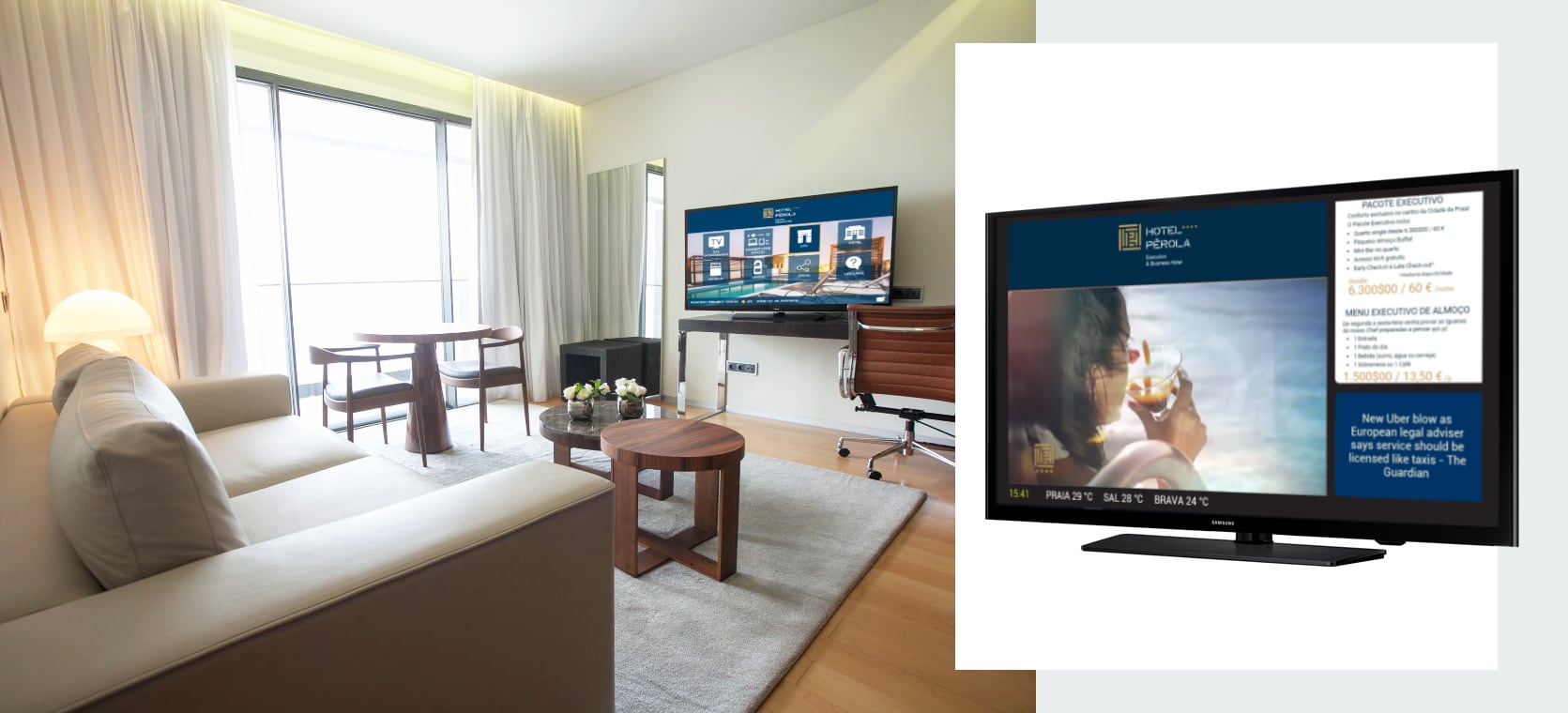 This project was implemented by Nonius with the support of CV Multimédia which provides the hotel with maintenance and local technical assistance services as well as to other Nonius' clients in the various islands of Cape Verde.
"In comparison to other platforms, Nonius' advantage is the integration of multiple guest and business services, into a single system that is interfaced with the Hotel PMS.
It dramatically simplifies information control and system maintenance. The proactive detection of possible anomalies, combined with the speed of solving them, is a critically important gain in an increasingly competitive marketplace. In short, the Nonius platform is a simple yet powerful system, which contributes to the effectiveness and visibility our hotel."

Luis Alberto Jassy

Administrator at Hotel Pérola