The West Cliffs Resort selects Nonius to implement a state-of-the-art, fiber to the room, GPON network infrastructure to support triple-play (TV, Voice and Wi-Fi) communications and infotainment services for the Guests.
West Cliffs Resort is an astonishing project in an amazing location. A project carefully designed to include multiple residential, leisure and wellness offerings to suit your every day need. The Resort, properties and golf course were designed to be integrated in the landscape, in harmony with the natural environment and maintaining the ecosystem sustainability.
The challenge
West Cliffs Resort requested Nonius to deliver a cost effective, scalable converged network infrastructure to support multiple communications and infotainment services. Nonius' Interactive TV, Voice and Wi-Fi products were in the scope of the project. Nonius proposed the GPON (Gigabit Passive Optical Network) technology, which is now becoming a standard network infrastructure solution for Resorts.
The main challenges for the project were: long distance between villas and the main distribution, high temperature amplitudes, energy consumption and deliver high bandwidth throughout the entire resort.
GPON @ West Cliffs
In the West Cliffs Resort distances are extremely high and GPON was the obvious choice for the network infrastructure. GPON allowed the implementation of a full IP converged network that was less expensive than independent coper infrastructures for Telephony, Data and coax for TV and CCTV.
The network diagram is illustrated in the following image: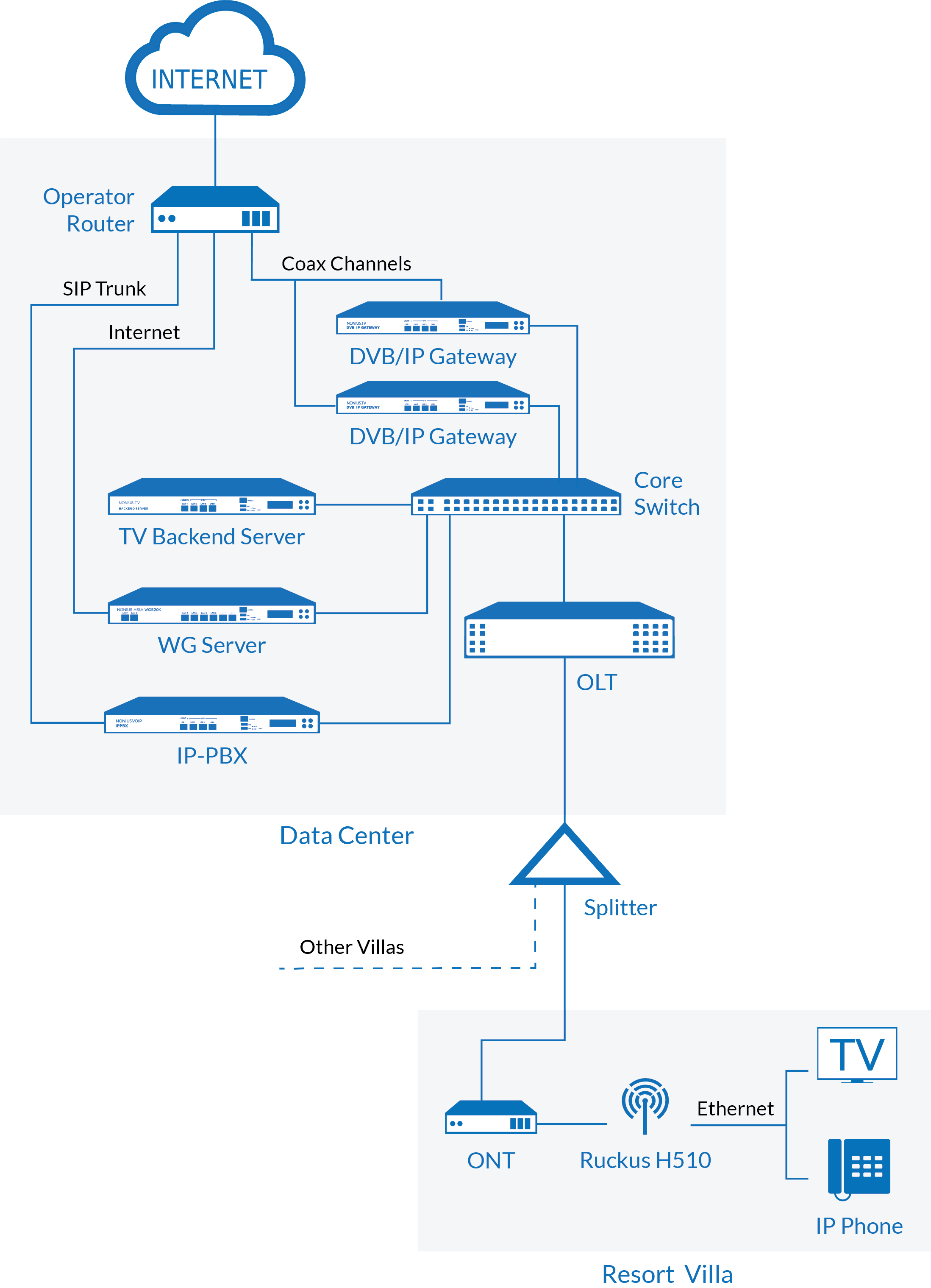 As complement to the GPON Infrastructure, Nonius provided the following products:
NONIUS.TV – Interactive IPTV system with HD TV Channels for the Guests. Deployed its own products of Middleware, Backend and TV Headend running on Smart Hospitality TVs from Samsung.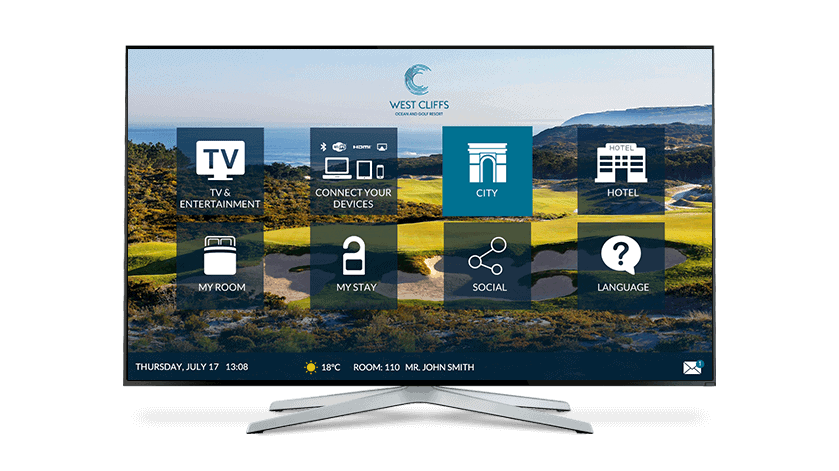 NONIUS.VOICE – Voice over IP designed specifically for hospitality. The core of the solution is Nonius PBX appliance. An IP-PBX built for hospitality with embedded PMS interface, voice mail and wake up call. Now also an Oracle Certified product.

NONIUS.GIA/WI-FI – Centralized Wi-Fi Management System providing Wi-Fi access throughout the entire resort. Solution built on top of Nonius Multigigabit GIA appliance with embedded PMS interface and cloud dashboard for alarms and statistics.
In this project Nonius Professional Services Team was responsible for:
Site survey and GPON Network design
Project Management and Subcontracting
3rd party Equipment procurement and supplying
Post-installation Site survey and training
Conclusion
For projects of this type, GPON offers a higher bandwidth, greater reach, faster connections, all at a lower cost. You can find this offer from Nonius in both opex and capex business models.
Together with Nonius' products and services it makes the perfect fit for resorts that are being built or retrofitted.
The project was done in close cooperation with the West Cliffs Resort team to whom we thank the great help and trust they put on us to implement this project.