Tivoli Ecoresort Praia do Forte Bahia hotel has updated its TV and Internet solution. Now offering to guests 4K / UHD content, providing 802.11ac Wi-Fi standard aligned with energy savings. The goals were to anticipate guests' growing demands and the hotel's constant need to increase energy efficiency.

The Tivoli Hotels & Resorts brand flagship hotel, located in Northeastern Brazil and owned by Minor Hotels, has been a Nonius partner since early 2014, having deployed an interactive TV system and aligned Wi-Fi internet. Over the years this solution has had a high acceptance and use by its guests, with high satisfaction rates. Reacting to the need for constant technological evolution, Tivoli Praia do Forte and Nonius have updated their deployed systems to meet future guest demands and the hotel's constant desire to provide the best technological services.
Energy efficiency: Fewer equipment in the center rack and more efficient set-top boxes
In the beginning of 2019, the existing HDMI Encoders were replaced by the latest version developed by Nonius, to optimize the space used by the equipment, that has 16 HDMI inputs, replacing the 2 inputs version. Energy consumption of the new set-top-box improves by 10% over the previous appliance compared to an equivalent usage.

Internet access: fast and high capacity
With the growing trend of emergence of numerous and diverse guest mobile devices, such as smartphones, tablets and smartwatches, for example, the need to update the Hotel's Wi-Fi technology to meet this demand was also stressed.
This upgrade made 802.11ac technology available to deliver high-speed Wi-Fi to a large number of mobile devices simultaneously and in a balanced manner. Internet distribution has high coverage and has greatly improved the guest experience. Today the hotel-installed STBs can support up to 20 connected devices per apartment and allow downloads of up to 50Mbits per device.
Tivoli Praia do Forte also features Nonius' Centralized Wi-Fi Management system, which is easy to use and also allows the hotel to track guest usage information in real time through Nonius Dashboard.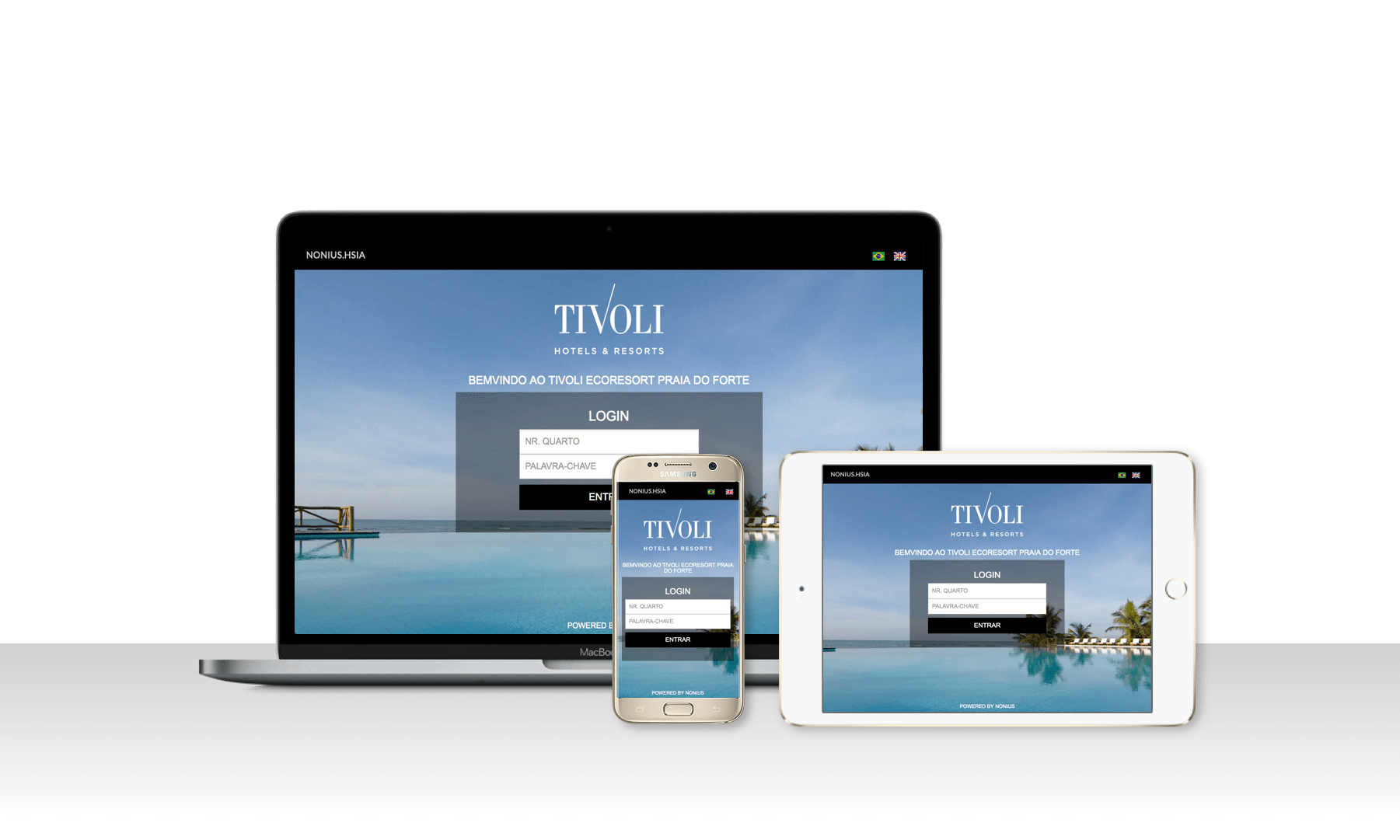 "In 2014, when we chose Nonius, we were looking for a solution to solve two issues that directly affected our guests' experience, TV and the Internet. Internet Management and IP Interactive TV solutions have brought an important technological advancement to the Hotel. Our guests have been able to take advantage of the latest technology, the most advanced in the market.

Over time it was necessary to improve this structure. Customer needs have changed and we have to adapt to new realities. In 2019, we upgraded the decoders to the STB400 model, where we achieved a significant gain in Wi-Fi signal speed and coverage, as well as a significant improvement in channel image quality.

We are thankful for this long standing partnership and count on Nonius' usual attention to provide us with the best in technology."

Lucas Fonseca

IT Manager at Tivoli Hotels & Resorts
"Tivoli's real concern for surprising its guests is transparent to us. With this update, we were able to respond to the communication challenges of a superconnected audience by offering products and services that specialize in transforming the relationship with the hotel features.

Thus, the digital transformation required in a leisure-focused hotel have become yet another attractive motivator of positive reviews, recommendations and, of course, the expected return on the next vacation.

We thank the Tivoli team for their confidence in our solutions and support in this project and deployment!"

Danielle Aleli Pereira

Sales Director Nonius Brasil