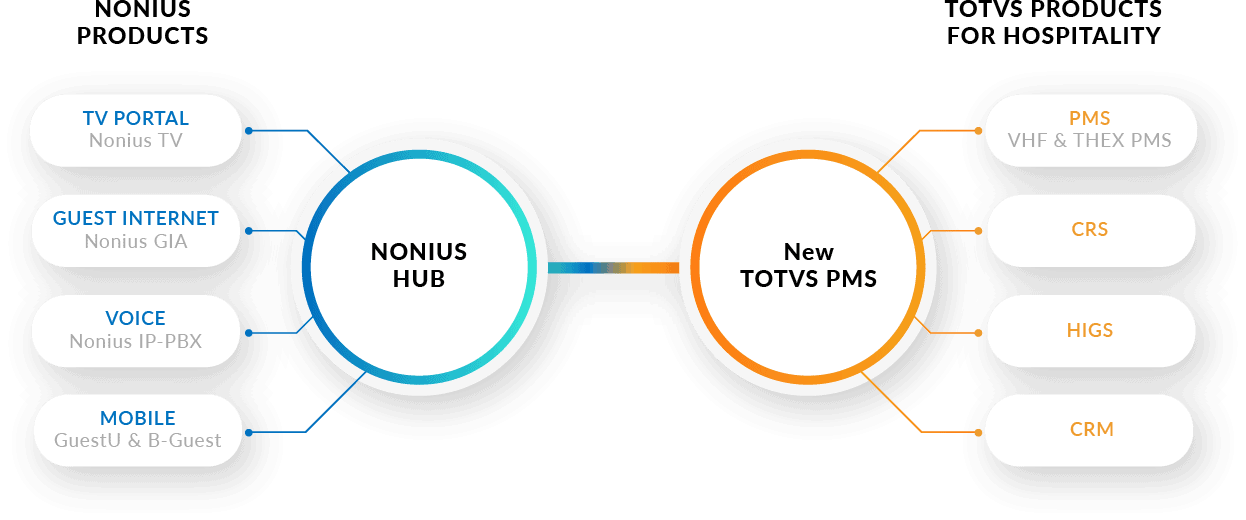 Nonius products are certified and ready for all hotels migrating to the new TOTVS PMS version.

Nonius Introduces New Integration with TOTVS PMS. The novelty is the API integration, replacing the interface that previously occurred via the database, which raises and expands the level of integration. The previous interface covered all PMS interaction, but it goes beyond that and allows Nonius products requiring reservation information (CRS) to integrate seamlessly with TOTVS.
To make it available to all Nonius products, integration was made with the NONIUS.HUB integration platform. It is an integration between two middlewares that give access to a range of products and deliver a very high level of integration:
Main benefits
More customer value with the integration

Better guest knowledge

Automation and process optimization
It was a joint effort between the teams of both companies, using the latest technologies to build interfaces, middleware and systems, and reinforces the longstanding partnership that will benefit the vast universe of customers we have together.
Nonius Cloud Integration Hub (NONIUS.HUB)
It is the systems integration and guest data collection platform throughout their journey. Integrates with PMS platforms, CRS, standalone email marketing campaigns with CRMs and more.
This integration is a very significant addition to the more than 50 interfaces Nonius already supports. We are thankful to the TOTVS team for its excellent collaboration and dedication in this project.
"We are pleased to announce that this integration is ready for use by all customers who have or will have products from both companies. For two leading companies, this integration will certainly have a big impact." said Leonel Domingues, Founder & CTO of Nonius.