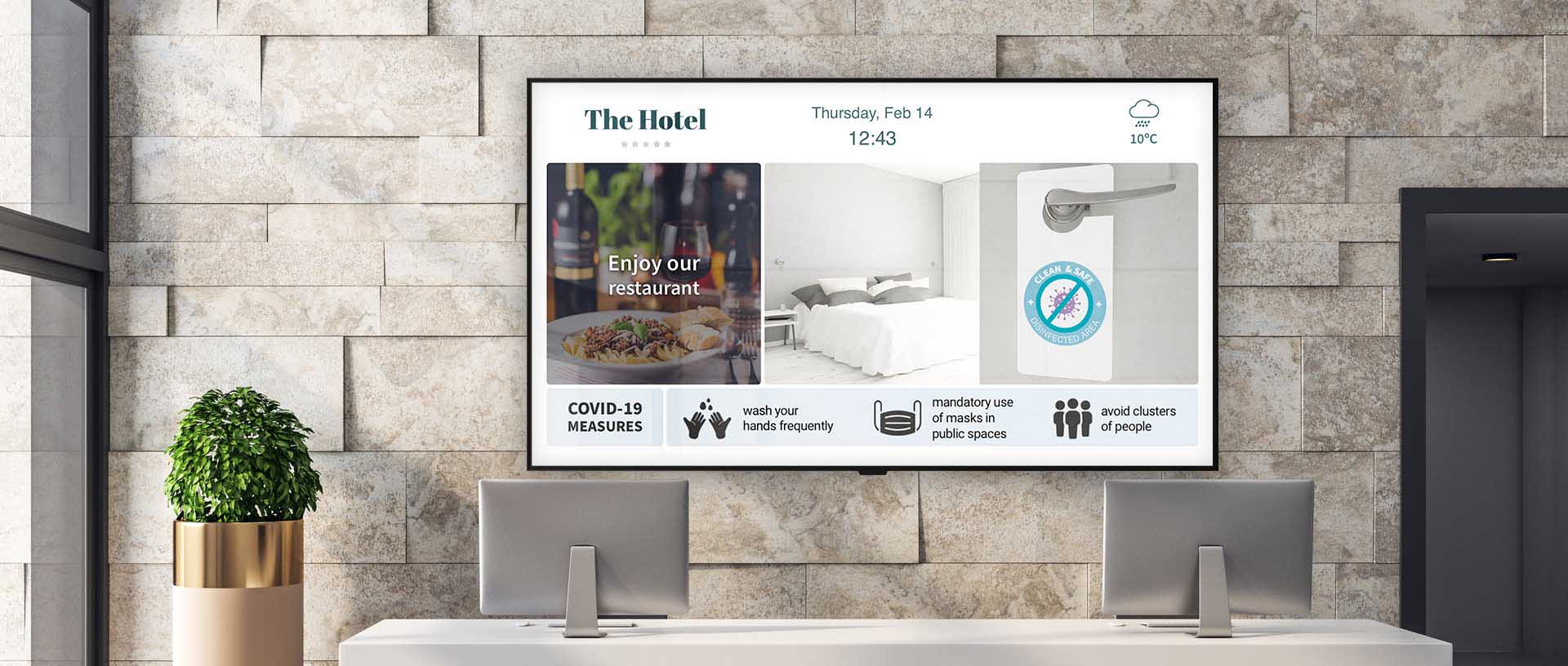 Cloud-based digital signage platform, multi-property and for any screen
Providing relevant information to guests at the right time makes their stay much safer and pleasant. Now, in addition to updating them with news in real-time, you can also make the cleaning and safety guidelines available on public area screens, elevator displays and the TVs in the rooms.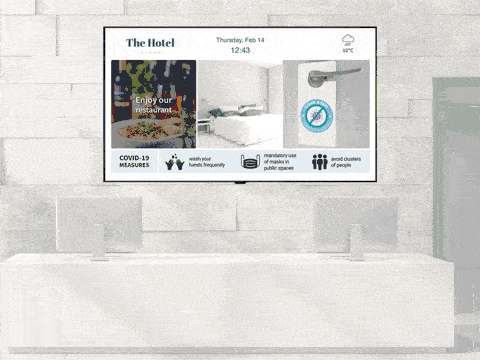 Safety Information – Reinforce guests' confidence by displaying stamps, certifications and measures taken by your business to keep them safe. Provide Safety Information on how to maintain physical distancing.
Restaurant Menus and Promotions –  Make your menu services digitally available in public areas, excluding paper, decentralized information and reducing physical contact. Show your bar, restaurant and services menus and presentations, safely promoting it to your guests.
Corporate Channel – Promote your services and campaigns and provide relevant information, such as safety measures to avoid physical contact and ensure safety for all customers and staff.
Tariffs and exchange rates – Facilitate access to important information for your guests so that they have more autonomy to plan their stay without the need to research or consult the staff whenever they want to know this information.
Airport Info – Provide real-time flight schedules from nearby airports with an easy and automatic process. Help your customers organize a smoother trip, promoting less turnout at airports, as people are informed and only go to airports when their flights are actually confirmed.
Meeting and coworking spaces schedule and wayfinder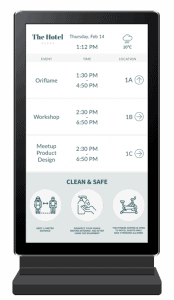 It displays planned or ongoing events and allocation of coworking spaces. Provides wayfinder directions for visitors and participants. Also, it reminds everyone of the safety measures needed in those areas.
You can schedule your promotions and information depending on the locations of the public areas and the time of the day. The Scheduling feature is very useful to present different information in the morning, during the day and at night, especially on safety depending on guests' affluence and events.
Nonius integrates with Amadeus Sales & Event Management system collecting information for meeting rooms to be displayed in Nonius Signage solution, taking advantage of Amadeus reservations automation processes.
Plug & Play Digital Signage
Cloud based solution, cost effective, simple and scalable
For Multi-Room, Multi-Property, brand and group
Design matching Hotel, brand and groups standards
Low power, small size, set-top box with local storage
Ultra High Definition (4K) content support
Compatible with any TV or monitor and runs on Philips table top displays​
Nonius is very proud of its Digital Signage solution, with 600 clients worldwide, we provide a safe and fast cloud deployment in a highly competitive offer.
With group management capability, it is really easy to promote multiple properties, saving time and management efforts.Following an exponential demand for good quality media, it becomes the perfect way to safely reach all guests in public areas. Nowadays and without any doubt, "one Digital Signage Display is worth a thousand words

Pedro Silva

Senior Product Owner at Nonius