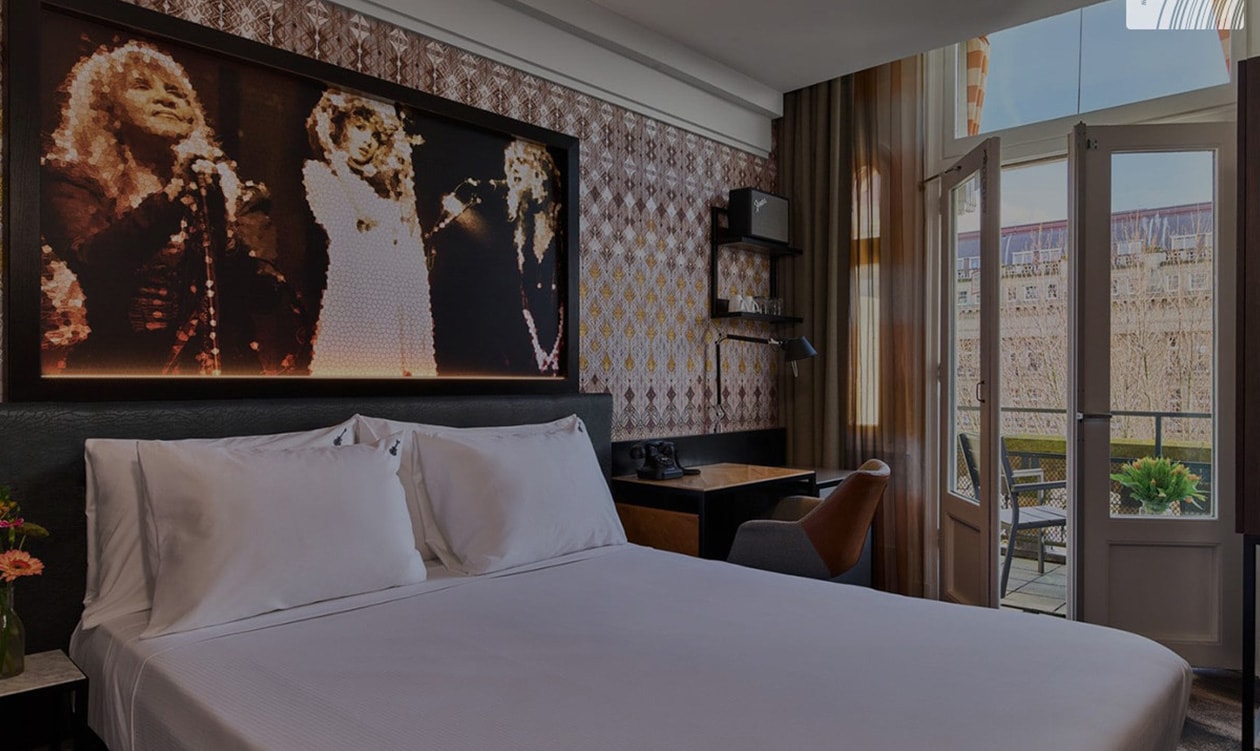 The hotel chain, which is synonymous with music, entertainment and customized experience, trusted our technology to provide their guests with bespoke in-room entertainment.
Hard Rock Hotels & Casinos is internationally recognized as a leader in the hospitality industry – offering first-class entertainment and contemporary designs, catering to modern travelers who seek a unique and outgoing hotel experience. Driven by integrity, philanthropy and unparalleled guest experiences, the brand adorns 26 distinctive Hotels and 9 Hotels & Casinos in the world's most enviable destinations.
To create unforgettable stays and deliver the best experience to their guests, Hard Rock Hotels feature a variety of personalized offers. Aligned with that desire, we were selected to develop fully personalized Interactive TV and Cast solutions for its first hotel in Amsterdam in 2020. We also implemented Wi-Fi, Managed Networks, TV Headend and Digital Signage solutions. Taking the next step in developing the partnership with Hard Rock, we installed in the newly opened Hard Rock Hotel Madrid and the Hard Rock Hotel Budapest, opening soon, some of our technology solutions.
Interactive TV: a wide range of in-room experiences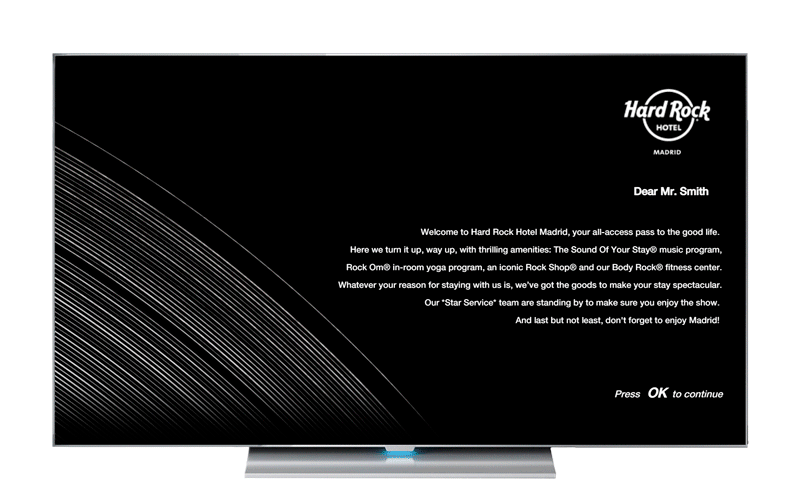 The perfect music to welcome guests
When guests turn on the TV in their room, they are greeted by their favorite music to get them in the right mood to kick off their stay. This feature is integrated with the hotels' PMS and the guests' music preferences are automatically set on the TV, right after check-in.
The soundtrack to your vacation
A journey through different musical genres is available during the entire stay. Guests can enjoy custom radio and TV channels by Hard Rock. This feature is integrated with RxMusic.
Guitar rental and lessons in the best Hard Rock style
Guests have access to The Sound of Your Stay® program benefits on their in-room TV, as well as finding all the Fender® guitar options they can book. They can also check the lesson content and create a pop-up studio in their guest room.
Rock Om® – time to relax
They can enjoy in-room yoga sessions to the rhythm of a personalized soundtrack created by a DJ, available on the TV menu.
Hotel services and restaurant menu
Guests can easily check information about the hotel and use the QR code of the menus to order from the restaurant and bar.
Easy control of room billing by guests and Express Check-out
Via their in-room TV, guests can control their billing at the hotel and perform express check-outs quickly and contactless. These features are integrated with Oracle Opera PMS.
Cast: comfort and convenience for guests
The three Hard Rock hotels have chosen our Cast solution to allow their guests to stream their own content to the in-room TV. They only need to be connected to the hotel Wi-Fi and, like at home, they will be able to stream content to the TV. 
The pairing between the TV and the guest's device is simple, quick and secure.
We are grateful for this partnership and the close collaboration
with the Hard Rock team!
Partnering with Nonius has been seamless in bringing to life enhanced technology with our newly opened hotels. Since the brand was born in 1971, Hard Rock has been rooted in music. Fifty years later, we continue to excel in a crowded marketplace by staying true to our origins, keeping entertainment at the center of our hotel experience. The solutions provided by Nonius offer our guests expansive opportunities to tune in and discover curated content and offerings that are bespoke for our brand.

Amanda Perlyn Jackson

VP of Hotel Marketing, Hard Rock International
It's a great honor to be part of the band. Deploying a Hard Rock hotel is not just about installing technology, but also about people, music, connectivity and well-being. This ethos is conveyed to guests in every piece of art presented in the fully customized solutions, whether it is TV, Cast or even Digital Signage. From greeting guests with their favorite genre of music to appealing content used on communications, not to mention guitar lessons or relaxing videos, it's all about the music, the media, and the perfect match between engaging and appropriate technology and people's happiness.

Pedro Silva

TV Product Unit Director at Nonius
Like Hard Rock, you can also customize the stay of your guests
with our Interactive TV and Cast solution.