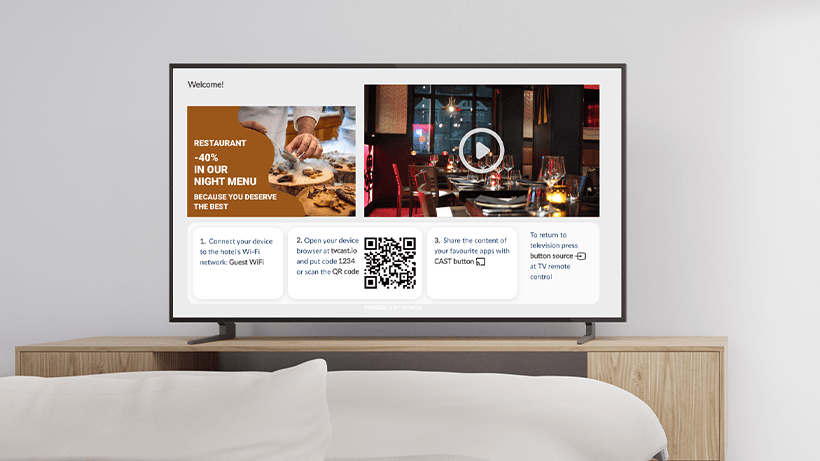 Yes, the Chromecast screen (or portal) can be much more than a pairing instructions page, it can offer you savings, generate revenue and greater guest engagement.
Let's create a great first impression for your guests! The TV portal that the Nonius Cast offers can play a major role as a powerful marketing tool to promote services directly to your guests. You will be saving on paper-printed collateral and become a more eco-friendly business at the same time you improve operational efficiency.
Your property will be seen as a business that is adopting sustainable practices, streamlining operations and improving efficiency.

Improve your balance sheet and your image
You will have fewer calls to reception to ask for information, staff can focus on personalization of services and your bill for printing materials will be dramatically reduced. Besides being good for the balance sheet, it helps with becoming an eco-friendly hotel and improving your image.
Generate more revenue
You are now able to advertise and cross-promote new special packages for guests' next stay, like an offer from dining, the facilities or the new property openings around the world to enhance brand loyalty. 
Customise your Cast Portal to meet brand standards
The Nonius Cast solution offers significant flexibility to design an engaging user interface that matches your branding strategy. Through the portal, you can add a welcome message and show amazing videos of the facilities and amenities.
Create a unique relationship with guests
Your guests can access key information to better enjoy their stay in several languages. Guests can watch videos with restaurant menus, events, or even access the promotions to make a reservation at the Spa. It's also possible to share local attractions and useful tourist information.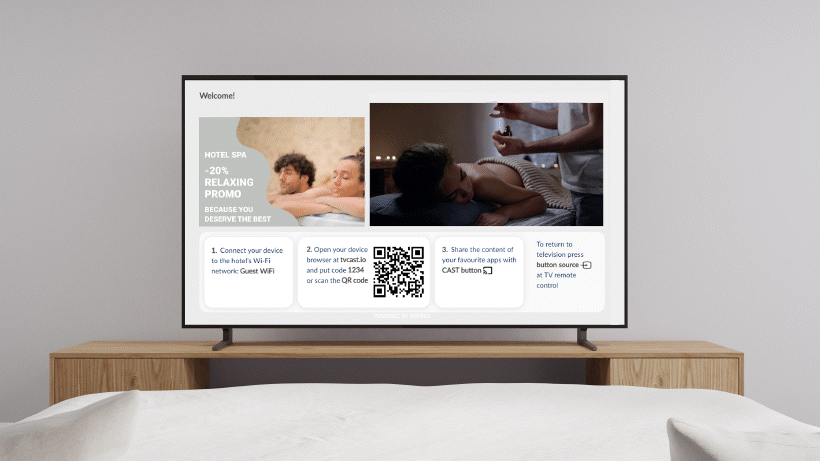 "Hospitality is currently facing a huge demand for casting solutions. Guests want to watch the desired content, wherever the location, especially to continue following their favourite series during vacations.
Fulfilling this need, Nonius saw the opportunity to enhance the guest experience through the Cast portal, making it more engaging via a custom brand design, amazing videos, vibrant images and promotional text. The portal is also a tool that answers the need for streamlining operations and running the hotel with less staff as it is a scarce resource in many markets. So, the portal is a great place to promote services, facilities and cross-selling while reducing paper collateral and providing important information to the guests. We're thrilled with the feedback and the ramp-up of sales we are getting. "

Pedro Agostinho

TV Product Unit Director at Nonius