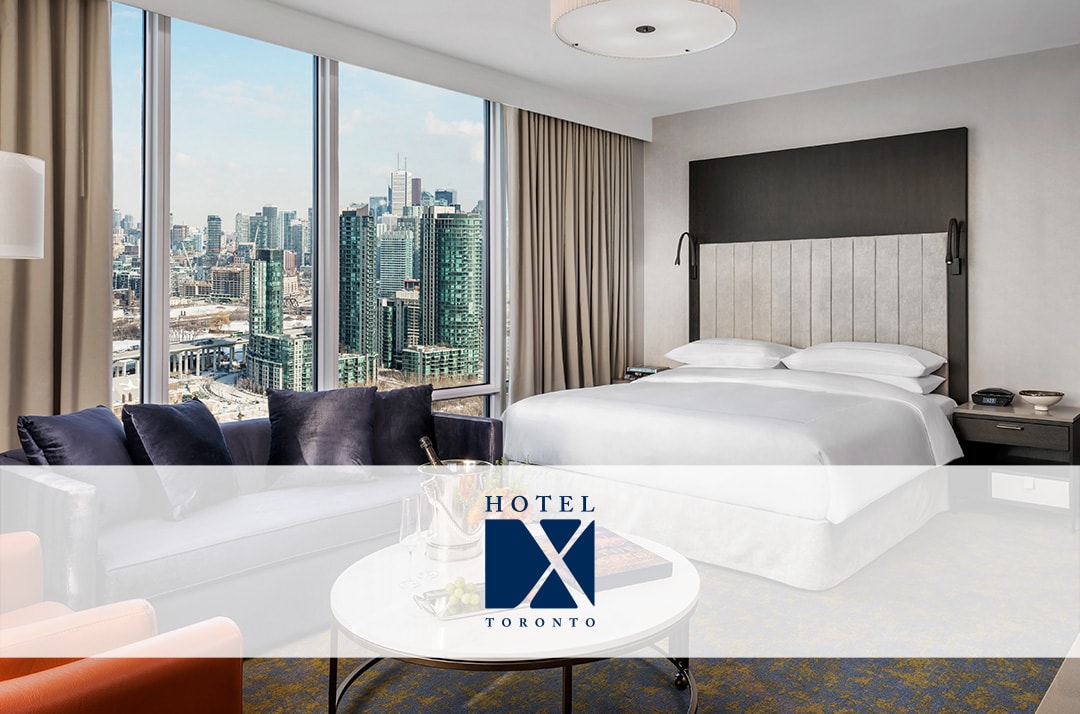 Overlooking Lake Ontario, the 5-star luxury hotel is an urban oasis with numerous amenities
Hotel X Toronto is a 5-star luxury resort with breathtaking views of Lake Ontario. The property offers countless amenities for all tastes, such as an athletic facility featuring a gym, squash and tennis courts and a TopGolf swing suite, a heated rooftop pool, an art gallery and a movie screening room. With over 400 well-appointed rooms, the hotel knew that they needed to invest in cutting-edge technology to offer a memorable experience to all guests. 
They partnered with Nonius to supply state-of-the-art TV, Cast and Internet solutions. "We are especially excited to be working with Hotel X, as a market leader in Toronto. It is an exemplary property that we are proud to have the opportunity to serve as their guest technology partner", said Dominic Locascio, the Director for Nonius US & Canada.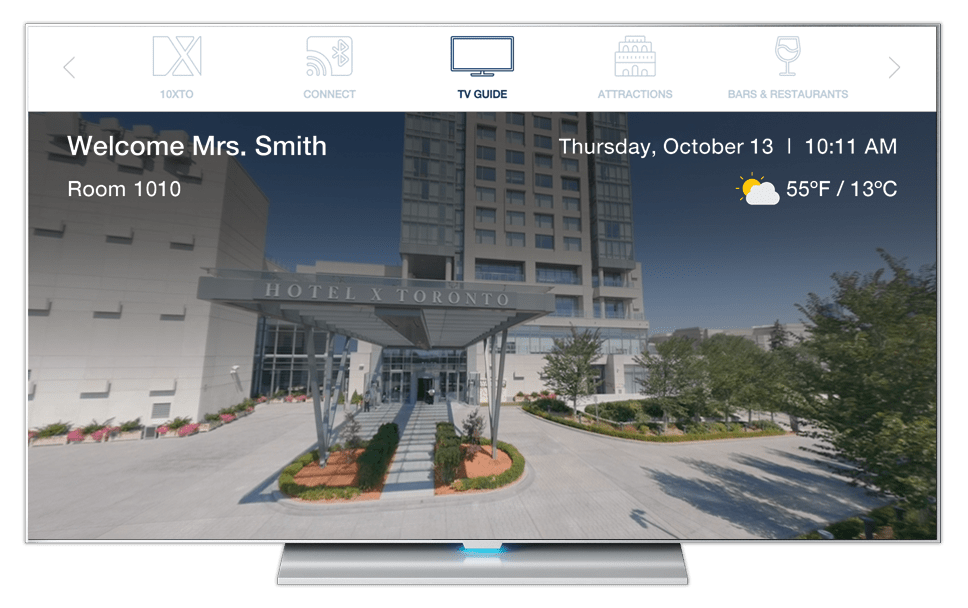 Guests want the opportunity to enjoy their own in-room atmosphere
While exceeding guest expectations in their public spaces, Hotel X Toronto wanted to offer an equally amazing in-room experience. Modern guests require seamless and reliable technology, and Hotel X pointed this as a key area that they could improve their guests' stay. 
By selecting Nonius to supply entertainment solutions, Hotel X had their TV system replaced with the most modern equipment in the market and also chose to add the HTNG award-winning Nonius Cast in all rooms. To provide even more personalised atmospheres, Hotel X Toronto can also create custom content for groups that are in-house, turning the TV portal into an interactive platform for marketing, information and announcements.
On the TV, guests can enjoy the best channel selection or easily stream their favourite content, like Netflix, Disney+ and many others, through their own devices. They can also access information about dining, room service, attractions and amenities, such as the Guerlain Spa or the 1OXTO Athletic Centre. To make their stay even more convenient, the in-room TV also allows guests to check their hotel bill, request checkout and set up an alarm clock.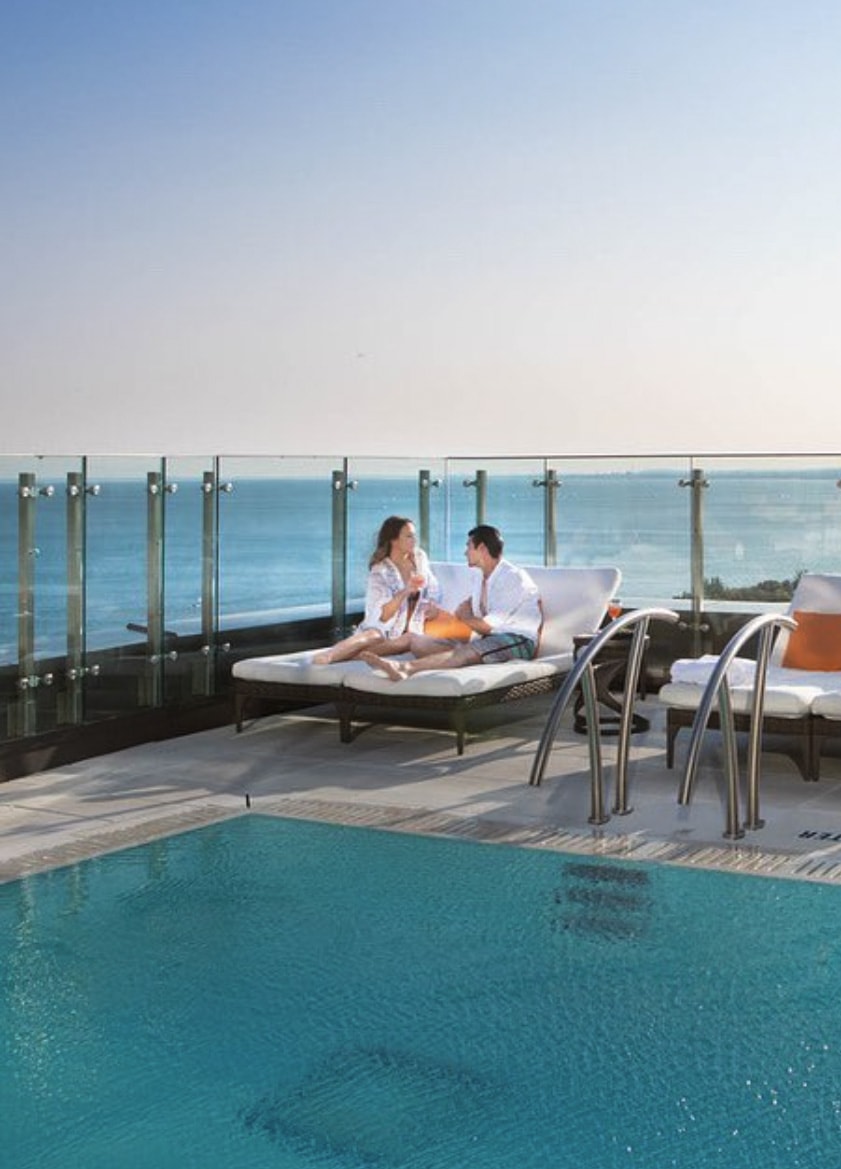 Great Wi-Fi in every corner of the hotel
A great Wi-Fi connection is not only expected, but highly anticipated by guests, becoming one of the top reasons for complaints to the front desk. Hotel X Toronto wanted to make sure that guests could access high-speed Wi-Fi in any corner of their urban resort oasis, and they needed the best technology to do so with great speed and reliable connectivity.
The Nonius Internet solution provided the hotel all the tools for an amazing Guest Wi-Fi experience, including their own branded captive portal. Trusted by over 1,800 properties all over the world, this robust solution is cost-effective and reliable, the perfect solution for a luxury hotel like the Hotel X Toronto. 
Soon, they will also be able to offer a dedicated Wi-Fi network with a custom SSID for conference attendees that is simple to manage and control through an easy-to-use dashboard.
24/7 technical support and local assistance on demand: Hotel X Toronto is backed by Nonius US & Canada office
"During the course of our initial discussions, it became clear that Hotel X really wanted to offer a best-in-class experience for their customers and their associates. Nonius' vast global experience and industry-leading support were a natural fit."

Dominic Locascio

Director for Nonius US & Canada
"We wanted to make sure we had a robust in-room entertainment experience for our guests
that was easy to use and intuitive. Nonius' technology provides a seamless and convenient
user experience for our guests and enables us to provide a more personalised environment
leading to higher guest satisfaction."

Hotel X Toronto