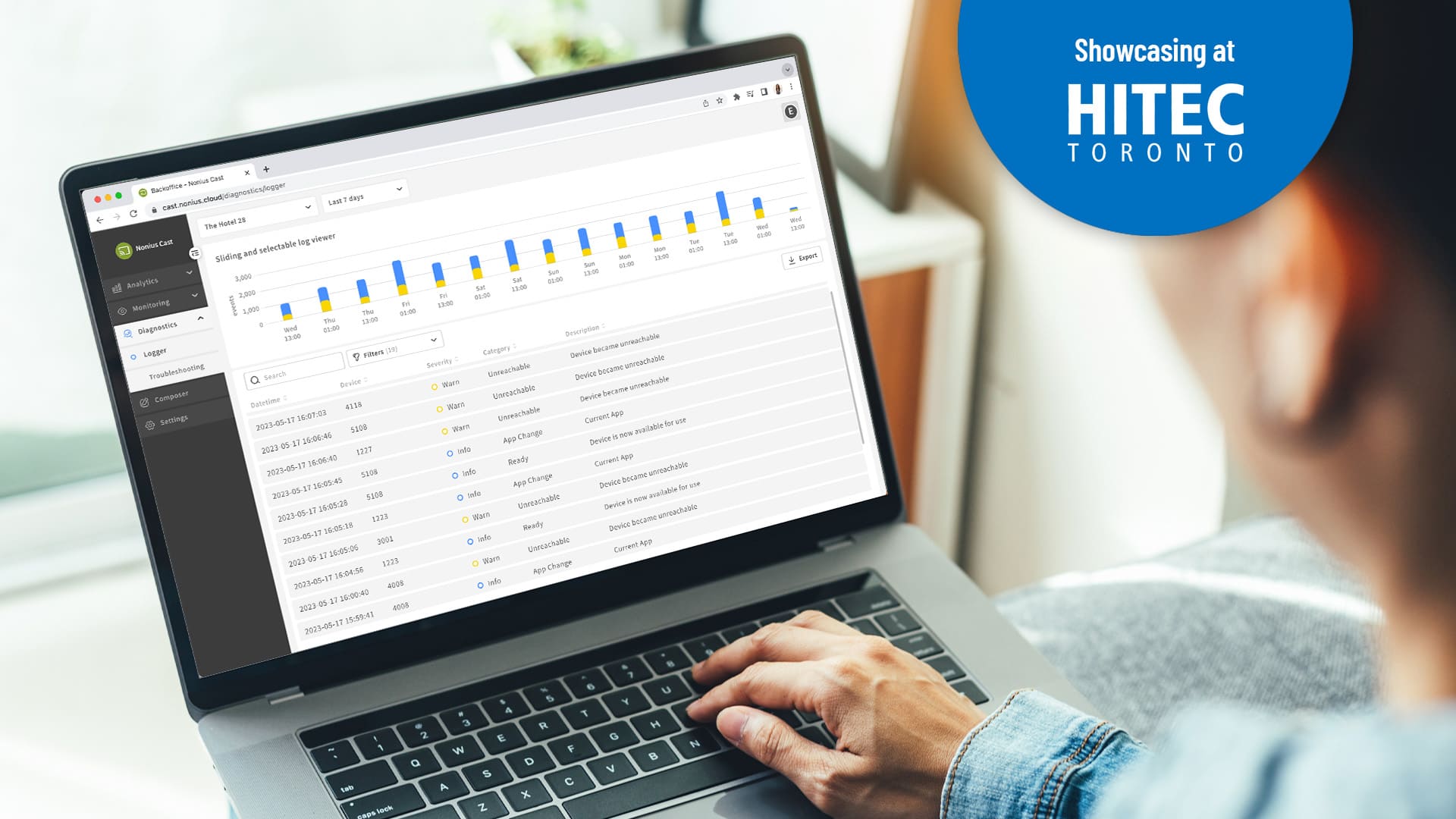 We are excited to introduce our latest update for Nonius Cast: the most amazing logging tool for this type of system, designed to revolutionise your monitoring and troubleshooting experience while improving the guest experience.
At Nonius, we strive to provide cutting-edge solutions to meet the ever-evolving demands of the hospitality industry. With over 70,000 Chromecast installations to date, we understand the critical importance of maintaining seamless operations and swiftly addressing any issues that may arise. In line with our commitment to innovation and customer satisfaction, we have invested in the development of state-of-the-art Nonius Cast Cloud-based tools that empower our team and clients alike.
Nonius Cast: New Monitoring and Troubleshooting Tools
Unveiling the New Cast Cloud Back-office UI
Our latest update includes a set of monitoring and healing tools, strengthening the efficiency of the Nonius Tech team while offering you the opportunity to actively participate in monitoring and troubleshooting your system.
Enhanced Signal Quality Assessment
As many of our installations rely on Wi-Fi networks, we provide a comprehensive chart that visualises the quality of the signal, enabling easy identification of signal coverage issues. By leveraging this feature, you can proactively address connectivity challenges and ensure uninterrupted operations.
Streamlined Logging Interface
Our sleek interface allows for seamless navigation and interpretation of logs. With just a glance, you can identify potential issues and quickly address them, saving valuable time and resources.
Comprehensive Error Identification
Our logging system facilitates the detection of critical errors by providing a graphical history of errors. Common issues such as pairing out of range, threshold breaches (CPU, Mem, IO), invalid device configurations, and mDNS overload can be easily identified, empowering you to take swift corrective action.
Diagnostics and Testing Made Easy
Our Cast Cloud Back-office UI now includes a suite of diagnostic tests designed to help you troubleshoot frequent issues efficiently. By leveraging these tests, you can diagnose the health and connectivity of your devices, identifying and resolving potential problems before they impact your guests' experience.
Simplified Troubleshooting Actions
Our updated Cast Cloud enables you to take immediate and simple actions to resolve issues. Whether you need to change a device's name or initiate a restart, these troubleshooting actions are easily accessible within the platform.
Availability and Updates
We understand the urgency of delivering these essential enhancements to our valued clients. The rollout of these features will be coordinated with each client, ensuring a seamless transition. Once the on-Premises Cast Proxy is updated, the systems will automatically start collecting logs and enable the actions described above.
We expect all clients to have access to these powerful tools by mid-June, empowering you to proactively monitor and troubleshoot your Nonius Cast Solution with ease.
As we continue to innovate and improve our products, your feedback, and input play a crucial role in shaping our solutions. At Nonius, transparency and customer empowerment are at the core of our philosophy. We believe in giving you the tools to monitor and troubleshoot with confidence, ultimately enhancing the guest experience and driving your business forward.
We invite you to experience the remarkable new capabilities of Nonius Cast first-hand at the upcoming HITEC Toronto event, where we will be showcasing our latest advancements.
"At Nonius Customer Services, we understand the vital importance of seamless operations and swift issue resolution. That's why we've invested in state-of-the-art Nonius Cast Cloud-based tools. These tools empower our team and clients alike, revolutionising casting process monitoring and troubleshooting. With real-time insights and remote access capabilities, we proactively identify and resolve issues, minimising downtime. Our user-friendly interface and dedicated technical support ensure clients can confidently navigate and leverage the tools. At Nonius, we're committed to continuous improvement, listening to client feedback to enhance our tools and provide exceptional support. Experience the difference of our innovative Nonius Cast Cloud-based tools for seamless operations and success."

Nelson Faria

Customer Services Director at Nonius