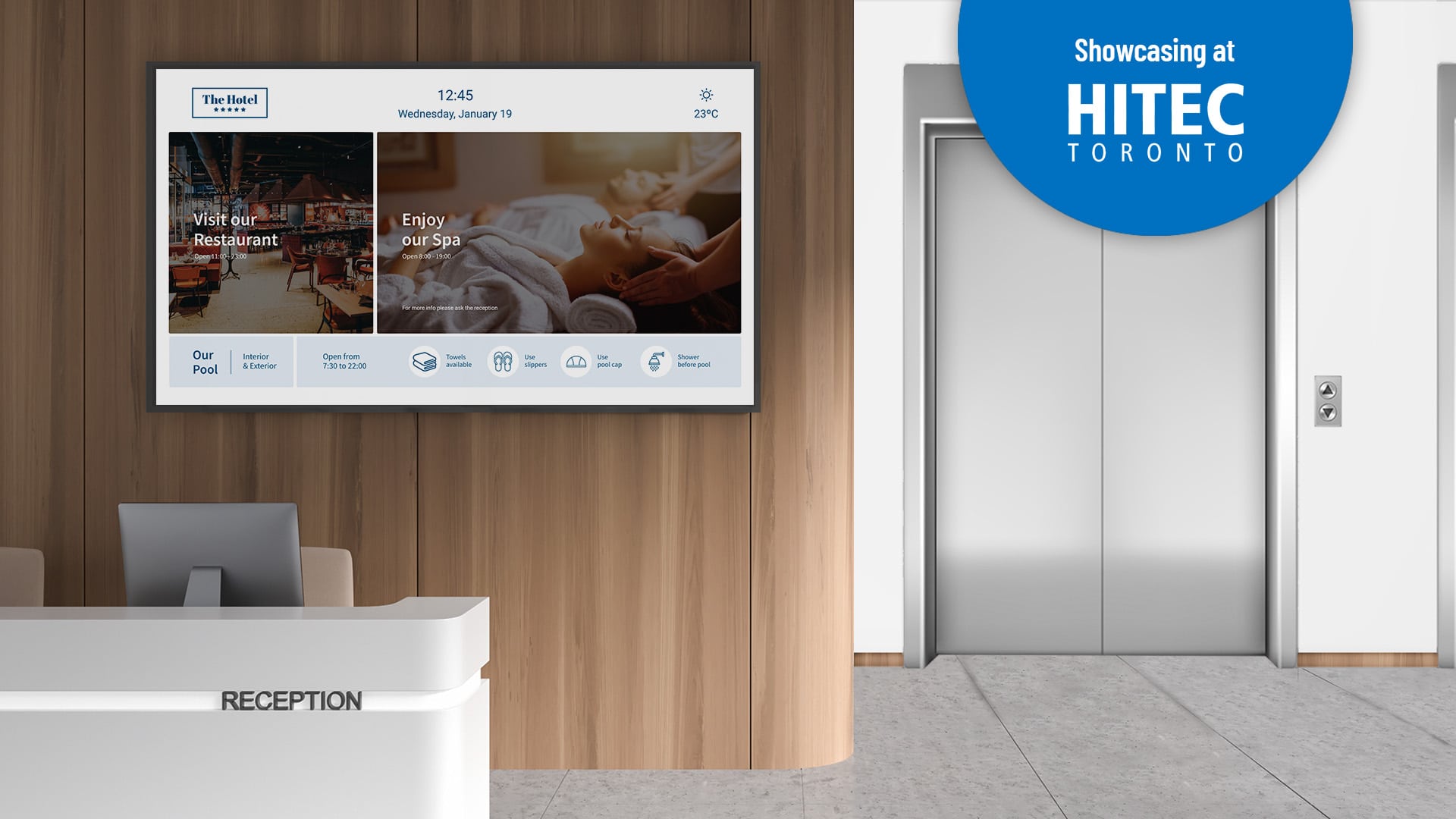 We are thrilled to announce the upcoming release of our enhanced Nonius Cloud Signage Solution, designed to empower you in creating stunning and engaging visual experiences effortlessly, whether you manage a single hotel or a group of properties.
At Nonius, we have always valued your feedback and strived to provide innovative solutions that meet your expectations. Designed with your needs in mind, this new UI for configuration and management will become best-in-class in our industry and includes a brand new and state-of-the-art editor that matches the best canvas graphical editors. This is the culmination of substantial investments and your valuable input, enabling us to deliver an unparalleled user experience that sets a new standard for the Digital Signage hospitality industry.
Watch our sneak peek video to witness the remarkable capabilities of the new graphical user interface (GUI):
All-New, Sleek Editor for the Nonius Cloud Signage Platform
Our new intuitive and sleek editor will empower your hotel staff to effortlessly manage key aspects of your Digital Signage strategy. With just a few clicks, you gain greater control over the canvas, allowing you to create stunning presentations that captivate your audience. While our team is always ready to assist you in crafting captivating visuals, our new editor gives you the freedom to take charge and make real-time updates without any hassle.
Plug & Play Cloud-Based Digital Signage for Every Hotel/Group
All the features that have made our platform successful over the years are being preserved with this upgrade. Our cloud-based solution will continue to offer cost-effective and straightforward content management, allowing you to centrally control your Digital Signage across multiple rooms, properties, brands, and groups. Furthermore, our solution remains highly compatible with any Digital Signage screen, TV, or monitor, ensuring seamless deployment across your hotel infrastructure.
Cloud-based:

Cost effective and simple to use solution with Central Management for content.

Highly Scalable

: For Multi-Room, Multi-Property, Brand and Group.

Highly Compatible: Easy deployment with any Digital Signage screen, any TV or monitor.
Versatile Applications for Your Hotel's Digital Signage Needs
Our Digital Signage solution for hotels offers incredible versatility. Whether you need signage for your hotel corporate channel, events and meeting rooms, interactive concierge in a digital totem, or flight information displays with real-time schedules, our solution has got you covered. Elevate guest experiences and streamline communication with our flexible and adaptable Digital Signage solution!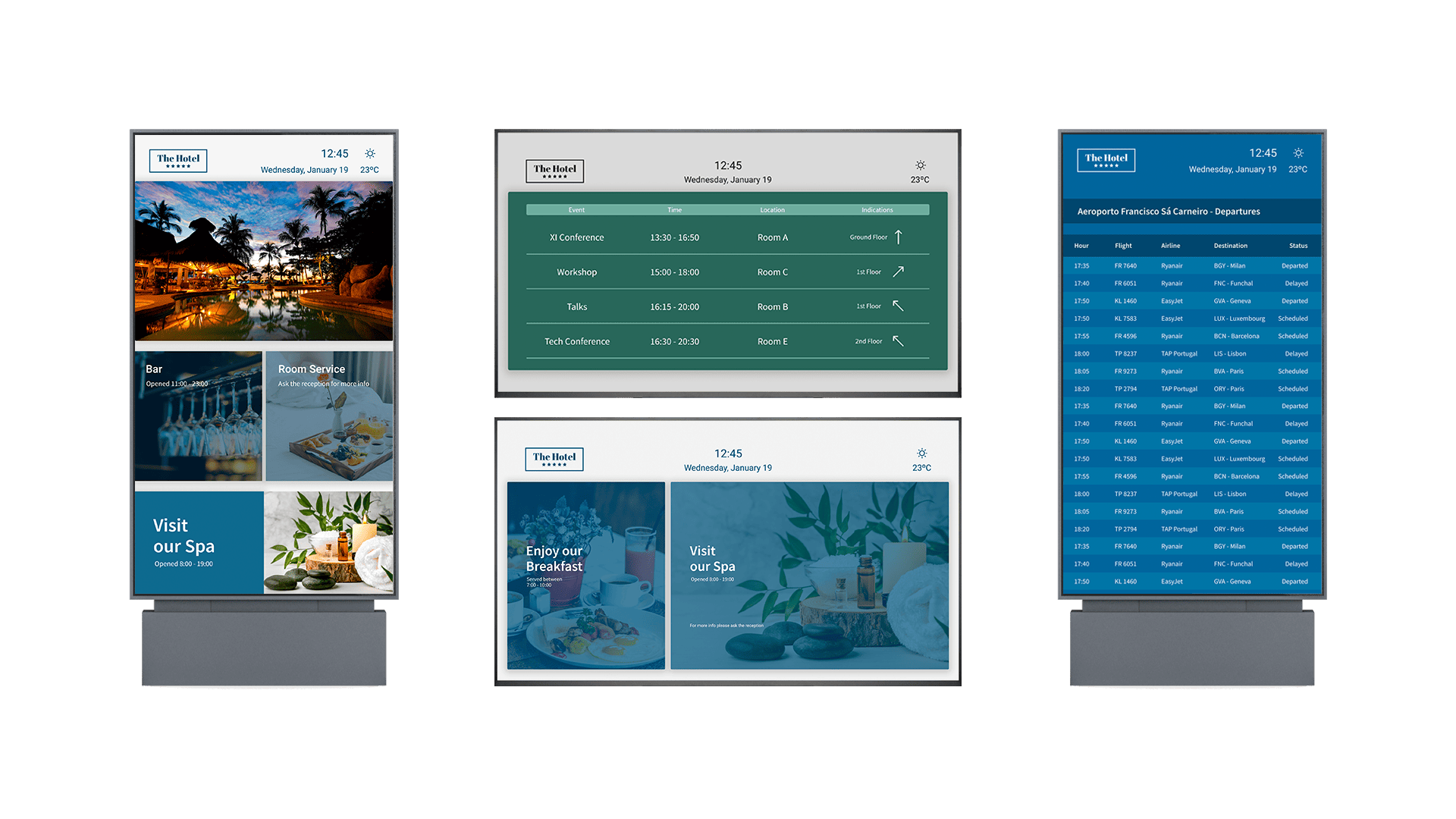 We are excited to showcase this significant enhancement at HITEC 2023 in Toronto, where you will have the opportunity to experience the future of Digital Signage first-hand. 
The upgrade will happen already in the last quarter, starting gradually to all our existing clients at no additional cost, benefiting both our valued current clients and new customers alike. 
Stay tuned for further updates as we approach the launch of our enhanced Nonius Signage Solution! Be ready to embrace the future, we will get in touch soon.

"Digital signage in hospitality, powered by Nonius' modern and user-friendly solution, revolutionises communication and experience. It blends functionality and aesthetics, creating captivating displays. With intuitive interfaces, anyone can effortlessly create and manage Digital Signage. It enhances guest journeys by providing seamless guidance and personalised information. Event venues come alive with dynamic displays, elevating the overall experience. Digital art installations in lobbies spark conversations and leave lasting impressions. Through remote management and cloud-based access, content can be updated instantly across multiple locations. Embracing Digital Signage is essential in a visually-driven world, elevating service and creating unforgettable experiences."

Pedro Agostinho da Silva

TV/CAST Product Unit Director at Nonius