Hub: a powerful hotel PMS integration tool
We have 16 years of experience integrating more than 100 hospitality products from a multitude of partners and now is available to any hotelier and industry partner.
The Hub for "Integration of the Things"
You can acquire 3 or each one separately.
Hotel Integration API
APIs & Adapters for interfacing with Industry vendors
A platform that allows you to connect 2 or more systems that are not yet integrated to each other. Once subscribed to our Hub, the "consumers" of the API will have access to all the PMS, CRS, door locks, domotics and many other integrations done through the years.
For Nonius
More products integrated with our solutions.
For Partners
Fast and easy way to integrate your product.
SaaS
SaaS based model open to partners and clients.
Guest data
Collects data for personalized marketing, directly to your DB or other CRMs.
More Info
Enrich your Mobile, TV, and Signage apps.
The content is made available through an hotel integration API, served by the Nonius cloud. Most of the content we capture and transform is paid and comes from global players like Flightaware and Google but, now that we serve almost 80 countries, this implies that we also have to gather a lot of content from local suppliers.
You can get a glimpse into its architecture in the following diagram.
More Info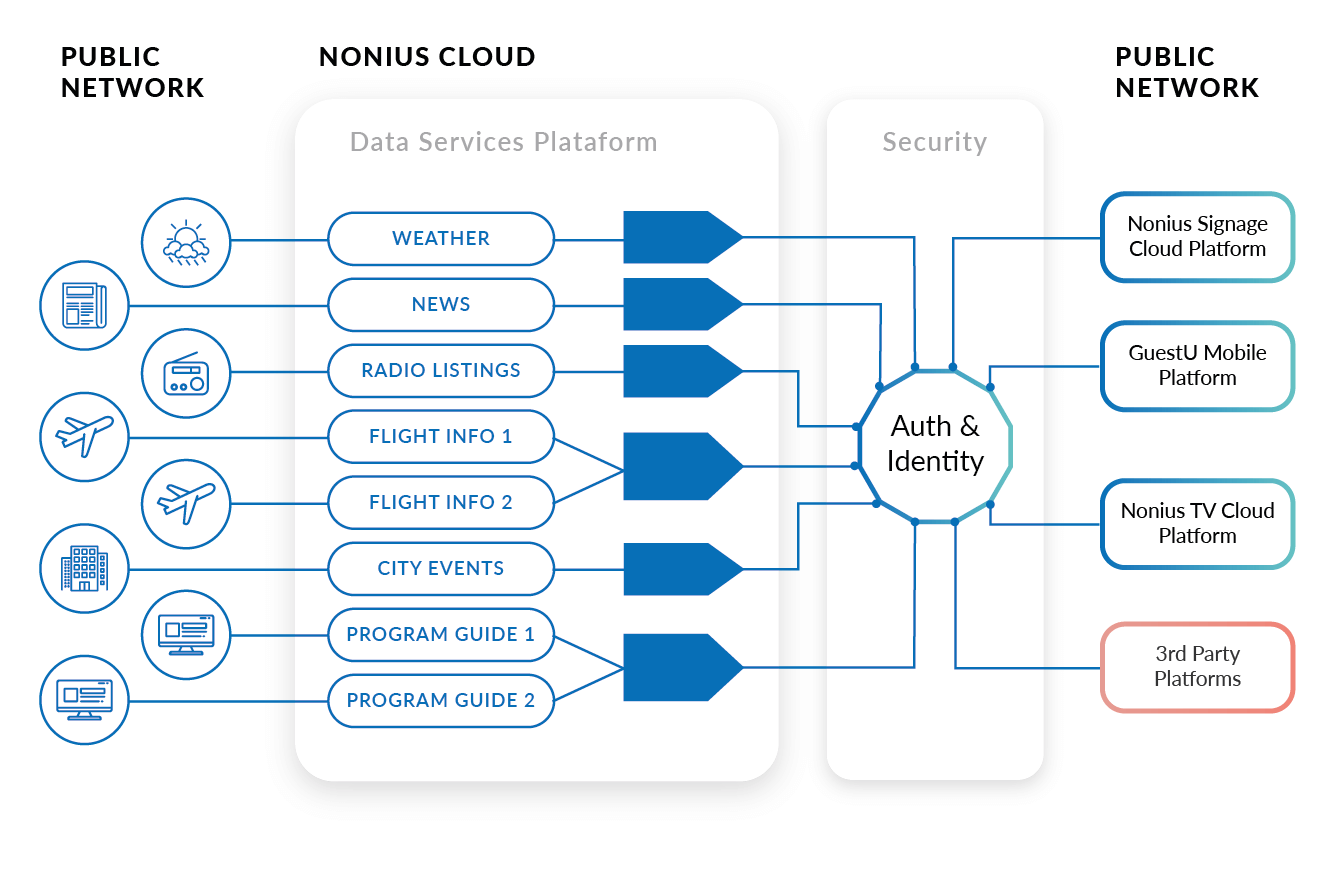 As part of the Integration Hub, you can subscribe to a Cloud dashboard. For the property's IT & management teams, it allows on-going tracking of the guest technology, real time system status, alarms, usage and statistics from a multitude of equipment and vendors.
You can have statistics of the hotel or the group of hotels within the chain.
More Info