We have prepared the "Tell your guests" web series for our clients and partners, to help them solve some of the main challenges during the recovery phase. The goals are to recover the guest trust, guarantee their safety and achieve a high level of stay experience.
The series will have 6 episodes that will show the hotels the right direction to offer a Safe & Special Guest Journey.
Tell your guests they can check-in with social distance!
Providing a simple and safe check-in process is only one touch away on the guest's smartphone or computer. Offer Online Check-in to your clients and make their check-in experience smoother while keeping social distancing.
Check out other resources that complement your Online Check-in tool:
Suggest the use of your Hotel App for a full contactless journey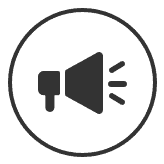 Inform Hotel Clean & Safe Policies
Get closer to your customers and send them an automatic email promoting your hotel's App after check-in. Introduce them to the offers available at your hotel and make the requests available though your Hotel App.
Start contact with new customers, gaining their trust. Inform them, through the use of CRM and Campaigns tools, about your new hotel Clean and Safe Policies. Show all measures taken by your establishment to ensure a safe stay. Take advantage of these tools to also strengthen the relationship with old customers and reinforce the trust they have in your hotel.
Also include this information in your hotel's application, so that it is available whenever guests inquire.