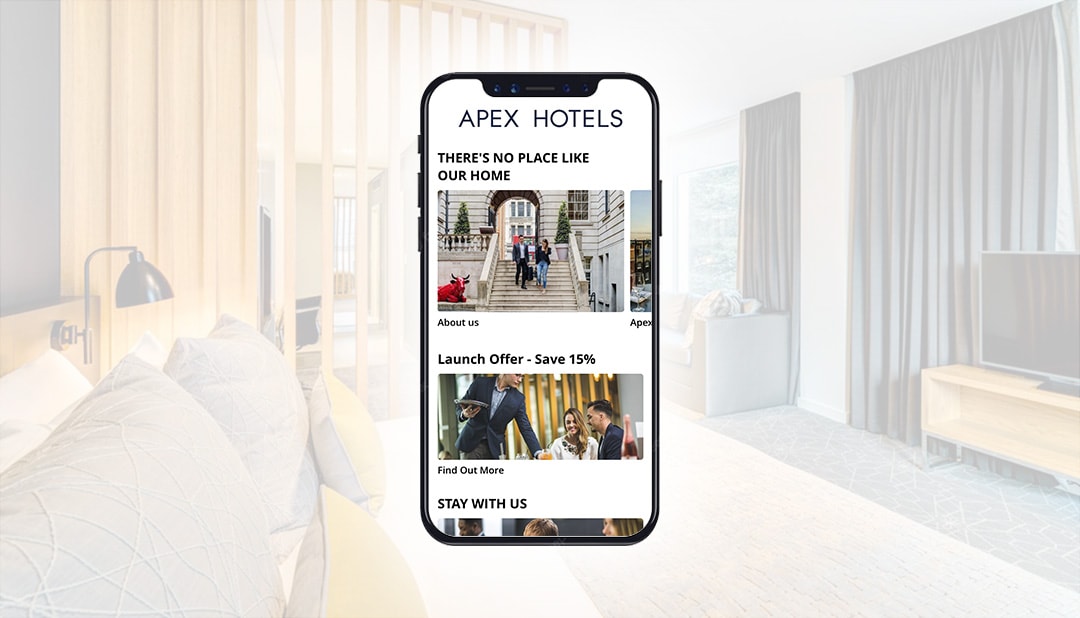 The Apex Hotels & Rewards app is available for download on iOS and Android devices.
Luxury UK hotel group, Apex Hotels have partnered with Nonius to develop and launch a brand-new app, Apex Hotels & Rewards, now available to download! Created to enhance, optimise and customise the guest experience, the app offers a range of services and the opportunity to engage with the brand before, during or after a stay at any one of the 4-star contemporary properties in Bath, Dundee, Edinburgh, Glasgow and London. 
Guests can take control of their adventure from start to finish with mobile check-in and express check-out as well as having the capability to book a room, make a spa or restaurant reservation and even use live chat with staff to make enquiries, about services, add-ons and request amenities.
The current functionalities included in the app's launch include: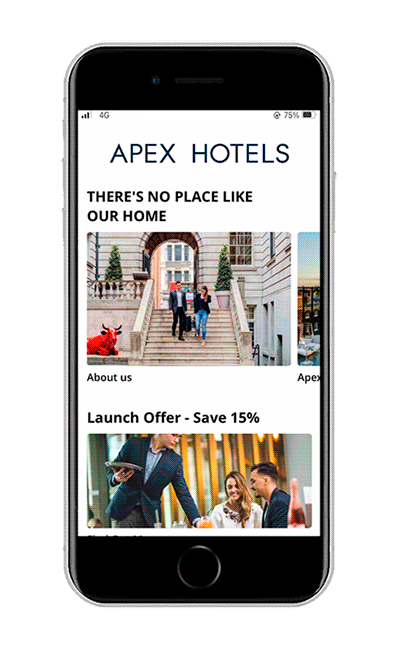 Explore destinations, browse hotels and book a UK city break
Implementation with Infor HMS to allow guest authentication
Pre check-in, billing and express check-out through an integration developed with MyCheck (Shiji Group)
Ability to make spa and restaurant reservations
City guide and public transport information
Live chat through app or WhatsApp
More information
App users will be treated to exclusive offers and rewards over time to encourage app downloads and use. The first version of the app is already available for download on iOS and Android, the roadmap promises exciting new functionalities to make the Apex experience even more unique. 
Soon, guests will be able to order and pay for food and beverage whether staying or dining in the hotels, participate in a new loyalty program and use their own devices as a mobile key – following the contactless trend in hospitality properties all over the world allowing guests to access their room without a physical key card.
By giving autonomy to guests, Apex Hotels are optimising operations, allowing staff to focus their attention on guest needs. The pre-check-in, for example, is the perfect way to speed up the process at reception and to also seamlessly collect guest data for marketing. Having a dedicated app allows for optimised workflows, revenue generation and hotel service innovation – providing a digitally led experience to aid satisfaction and increase efficiency.
"Choosing Nonius to build the custom Apex Hotels & Rewards app was essential in further digitising the guest journey to make their experience more personalised and seamless, allowing them to interact with Apex Hotels from wherever they may be at any part of their journey. We look forward to the continued collaboration and support in implementing the further technologies and functionalities in the application to aid our destination-led customer-centric mobile journey as the development phases progress."

Michael Stott

Apex Hotels Commercial Director
"Developing an app for a hotel group is always an exciting challenge, and Nonius is very proud of our work in close collaboration with the Apex Hotels team. We hope that the new functionalities planned in the app's roadmap will make the digital guest journey even more memorable, providing the best digital experience to Apex Hotels guests and staff."

Manuel Lima

Mobile Business Unit Director at Nonius