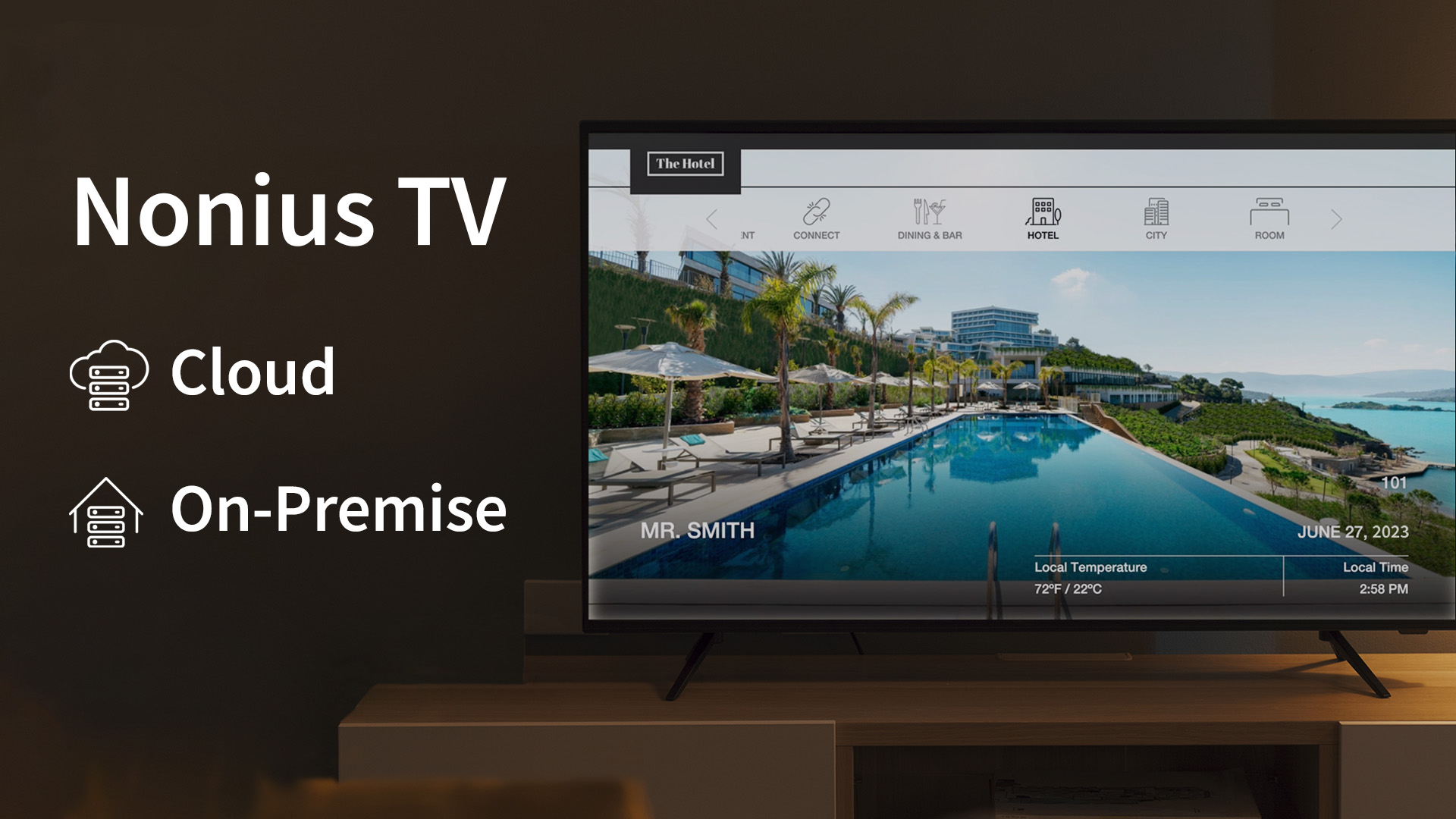 Nonius TV has been offering a Cloud version since 2022, and we're excited to announce that we've now aligned the features to simplify your decision-making process between the two options: Cloud and On-Premise.
In the dynamic world of Interactive TV, Nonius has consistently innovated for the hospitality sector. Since launching our Cloud-based Nonius TV in 2022, we've harmonised its features with our On-premise solutions. Our exclusive cloud-based support for LG, Samsung, and Philips TVs is a testament to our dedication to innovation and excellence in the IPTV solutions domain.
Cache Server: Powering Bandwidth Efficiency
Previously exclusive On-premise features are now available across both Cloud and On-premise choices. To optimise certain features, an on-premises cache is essential. We offer two solutions: dedicated hardware cache supplied by us or you can implement your own transparent cache server. Our system ensures all vital features remain up and running, even in the rare case of cache interruptions.
On-Premise: Our Continued Commitment
While our current Nonius TV solution emphasises a "cloud-first" and SaaS approach, we remain committed to supporting the on-premises hardware-based solutions that our clients trust and continue to choose. 
For those considering the cloud, we offer attractive incentives to facilitate a smooth transition.
For further insights, feature specifics, or to discuss potential migrations, please contact us. Nonius is here to guide you into the future of Interactive TV solutions!
"As the Product Director, I've witnessed first-hand the transformative power of advanced technology in the realm of hospitality. Integrating Nonius TV into the guest experience epitomizes what top-tier hospitality should be: not just a showcase of technology, but a commitment to crafting a unique, tailored experience for every visitor.
When it comes to deciding between cloud and on-premises infrastructure for Nonius, the benefits of cloud stand out: unparalleled flexibility, scalability, and an undeniable uplift in service efficiency.
But beyond the technology, at Nonius we believe that Technology should be invisible, what truly sets us apart is our unwavering commitment to our clients. We're not just here to provide a product; we're here to ensure seamless continuity and the ongoing evolution of our offerings. It's this dedication that ensures our solutions not only meet but exceed the ever-evolving needs of the hospitality sector."

Pedro Agostinho da Silva

TV/CAST Product Unit Director at Nonius