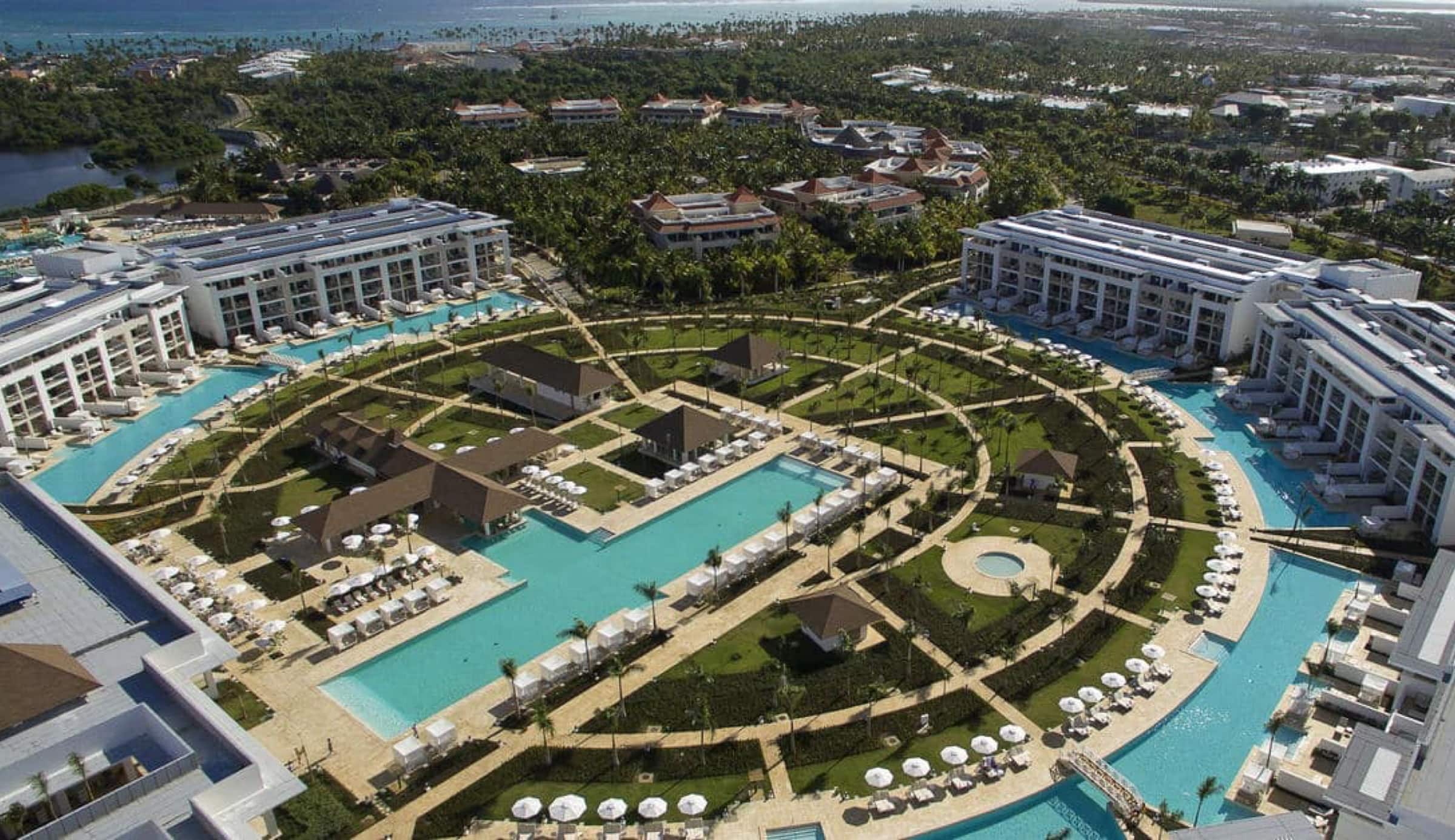 The Meliá Hotels International property located in the Caribbean chose the Nonius TV solution to entertain and communicate with its guests.
Located in beautiful Punta Cana, Dominican Republic, The Grand Reserve at Paradisus Palma Real is a great destination for travelers looking for luxury and a premium stay. Its modern and elegant design fits perfectly with the natural setting, creating a pleasant environment that provides guests with unforgettable memories.
The high standard of the hotel chain in this Caribbean resort makes the service one of its strengths. The property has 8 high-quality restaurants, a large water park, fabulous Swim-Up suites, MAIA Signature SPA by Natura Bissé, an extensive fitness program and activities for all ages.
Attentive to the latest hotel trends, the resort sought out a complete TV solution that would also serve as a channel of communication with its guests. To fulfill all the requirements, they selected our TV System for hotels and 690 Samsung Hospitality TVs. The project was implemented by our partner Altron Trading.
Communication, information and entertainment channel
We designed a custom-made interface with a personalized layout, matching the resort and  Meliá Hotels International brand standards, offering an intuitive and easy-to-use experience for guests. The interactive TV offers more than entertainment, it also provides guests with an even more digital and safe journey.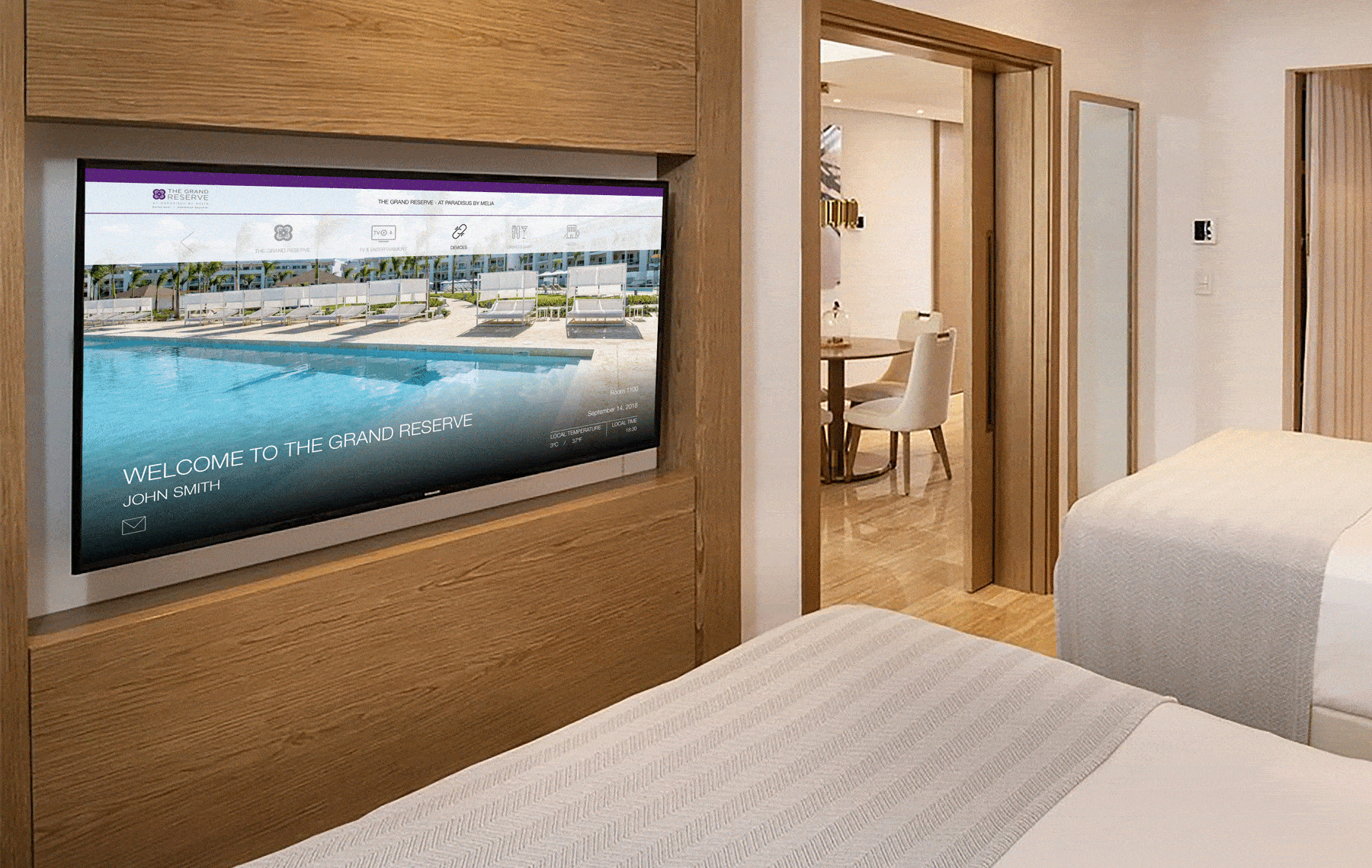 Guests can access all the information about the resort, destination, weather, flight details, and much more. They can also enjoy VoD content, featuring a great variety of the latest movie releases made possible by our partnership with leading Hollywood studios. 
Besides, The Grand Reserve at Paradisus Palma Real uses Interactive TV to promote its restaurants, services and thus increase cross-selling.
This project was made possible thanks to the great partnership with Altron Trading, the teamwork of both companies, and the collaboration of the hotel staff.
"The first Meliá Hotels International property to open in the Caribbean during the pandemic chose Nonius TV to entertain and communicate with its guests, as part of its ambitious BE MORE DIGITAL 360 project which intends to reach all its hotels."

Juan Carlos Gómez Díaz

IT Director at Meliá Hotels International in the Dominican Republic
"It is a pleasure to serve as an integration channel for our client Meliá Hotels International to enjoy Nonius' hotel TV solution. It provides access to a communication tool, content platform, and above all, a vehicle to optimize guests' stay, through more effective and dynamic communication, allowing guests to know more about the property and its activities.

We thank our client Meliá Hotels International, for choosing our company, and our partner Nonius, for making international technology available to our clients, which generates value and considerably improves the guests' stay."

Edwin Pereyra

CEO at Altron Trading Company
"We are very proud to have been selected as partners for this prestigious resort in the Dominican Republic, our third resort installed in Punta Cana.

With no hardware in the room, we offer a fully interactive platform that is very useful to inform guests about the property and its services, entertain them and increase cross-selling. During Covid-19, we also provide digital menus for the resort's restaurants using a QR code available on the TVs in the rooms.

A big thanks to our partner Altron Trading Company and the resort staff for their help during the installation period."

Jardar Hals Bjelland

Nonius Director - North/Central America & The Caribbean