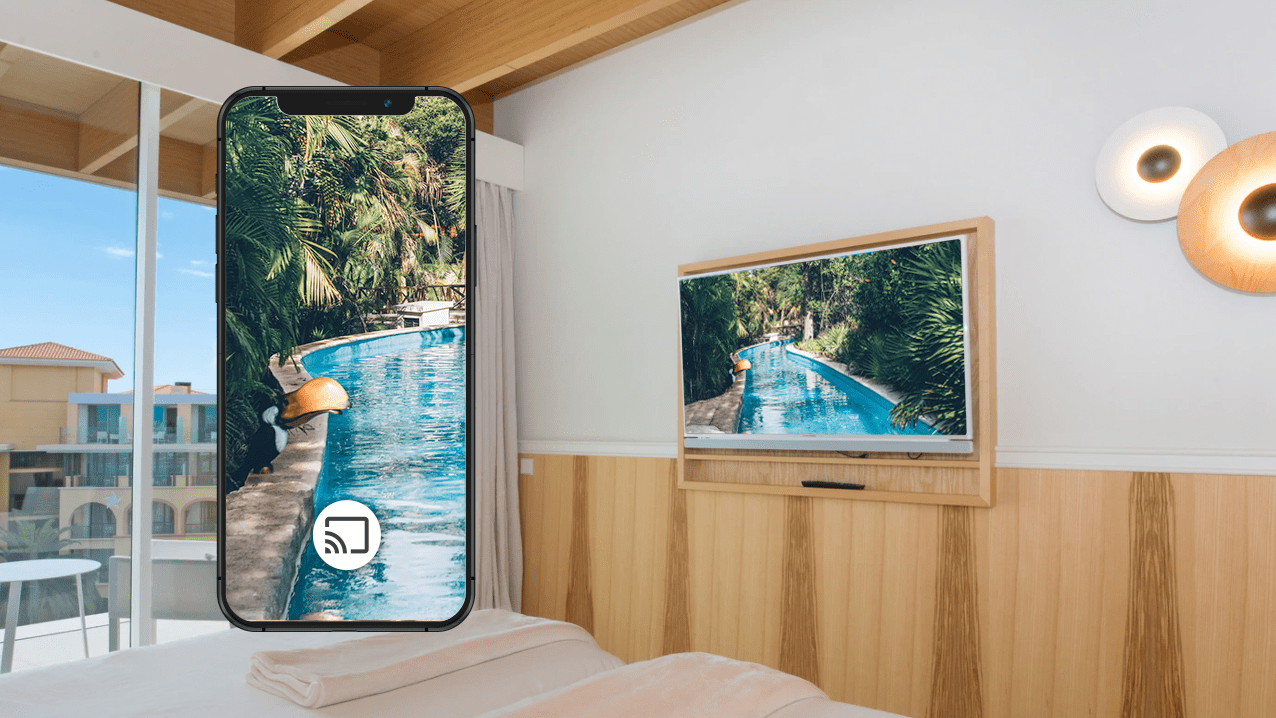 We developed a custom tool for the Iberostar group, with personalized content and integration with third-party systems used in its hotels.
Iberostar Group is a 100% family-owned Spanish multinational with more than 60 years of history in tourism and business origins dating back to 1877. Its main business is Iberostar Hotels & Resorts, whose portfolio exceeds one hundred 4 and 5-star hotels in 16 countries. The group has become an international benchmark by promoting a more responsible tourism business model focused on caring for people and the environment. The Wave of Change movement reflects this specific commitment of the company to the environment and the oceans, and the effort to share it with all of society.
With sustainability as the engine and lever of the business, the company places the circular economy at the center of its strategy and works on its own Agenda 2030 to be free of waste in 2025, neutral in carbon emissions in 2030, 100% responsible in its chain supply of seafood in 2025, and improve the health of the ecosystems that surround its hotels, among other objectives.
The Group is made up of a global team of more than 34,500 people of 91 nationalities. Thanks to this talent, the company is a leader in quality and promotes differentiation in the customer experience through constant product innovation and digital commitment.
Since 2018, we started the alliance with Iberostar Selection Lisboa, and we are honored to serve Iberostar with our technology, and help improve the experience of its guests. Our TV, Wi-Fi, Network Management and Mobile solutions are being used by some of its hotels. Recently we were selected as the main provider of the Cast solution and we have already implemented our Nonius Cast, winner of theHTNG Innovation award 2020, in some of its properties:
Nonius Cast: simple and secure solution for guests
Allows guests to stream their own content to the in-room TV, ensuring the security of their credentials. They just need to be connected to the hotel's Wi-Fi, which can be provided from other suppliers, and they connect their device to the TV as they do at home.
This solution supports multiple devices per TV and per room, and only shows guests the visibility of the Chromecast available in their room.
In addition to providing guests a personalized experience, hotels can also use the TV as a great communication channel. In the Iberostar project, we customize the Chromecast welcome screen and integrate the solution with its intrastay content communication system, allowing hotels to receive their guests in a special way and also increase the possibilities of cross-selling and upselling of their services.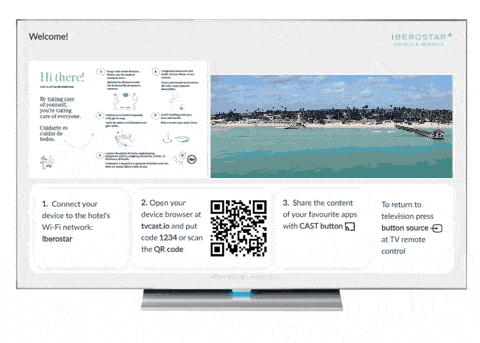 Welcome messages for guests

Hotel service promotions

Disclosure of videos and images of the hotel
"The provision of this solution in our hotels allows us to improve our communication strategy with our clients in a key point such as the room, in addition to offering a service that provides guests with a better and more personalized experience. It allows the client to continue consuming their audiovisual content in a simple way, as if they were at home."

Llorenç Vives

Systems Infrastructure Director at Iberostar Group
"It's a real honor that a prestigious hotel chain like Iberostar has opted for our Cast solution and to be able to work with them on this project is a real privilege. With our Cast, we seek to improve the guest experience at all times and, together with Iberostar, we are able to take a content sharing solution one step further and, in turn, serve as a marketing and statistical tool in a minimally invasive way, always offering this added value for the guest."

Fernando Pardo

Nonius España Director
Like Iberostar, you can also personalize the stay of your guests with our Cast solution.