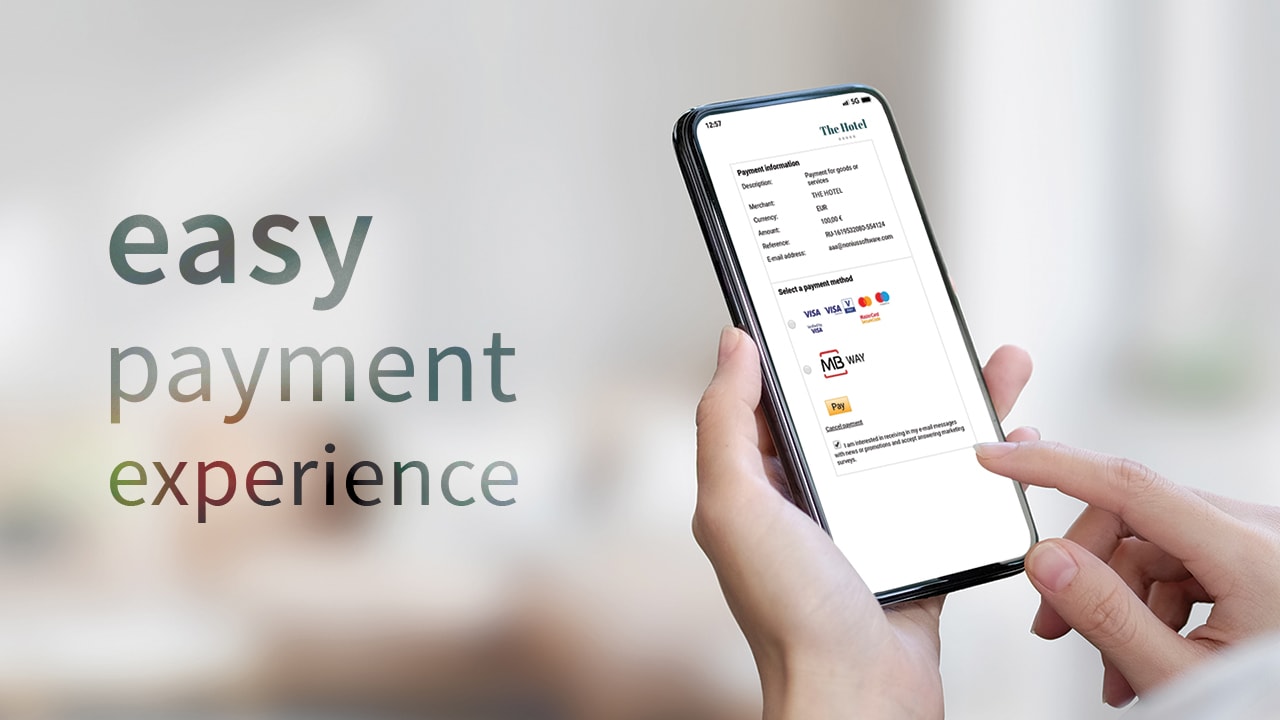 Offer a fully digital and secure experience from check-in to check-out through frictionless payments, allowing

guests

to pay remotely using their mobile devices.
Guests want payments to be easy! Using the hotel app, they can securely provide their credit card as a guarantee and make digital payments, thanks to the integration with the PMS. With digital payments, hotels don't have to hassle guests for their card details and check-in at the reception can be skipped entirely. Hotels can facilitate card payments and pre-authorise extra charges such as room service or spa facilities.
Adopting the most resourceful technology to streamline daily operations becomes a priority, especially in this staff shortage scenario. Streamlining the data collection and the payment process will increase the efficiency of all operations and staff will save valuable time. Your hotel will also reduce costs and generate more revenue!
Offer more comfort and security for guests using integrated payments!
Online Check-in
Online payments is a big part of this process since it allows guests to provide their credit card to pay for their stay or pre-authorise for additional expenses before arrival during the online check-in.
Hotels can request guests to make a full payment for their stay according to the amount sent by the PMS. Alternatively, a pre-authorisation can be requested to cover the stay value plus an additional amount for any incidental expenses, and the tokenised card details are pushed to the PMS. 
Online payment by credit card, including pre-authorisation with tokenization at check-in allows to simplify data collection and optimise processes. 
Ordering food
Allow your customers to access a Web App where they can view the menu and place orders from their restaurant table. Scanning the QR code allows guests to directly access the Menu and start ordering, all through their own smartphones. The app can be integrated with POS and Payment Gateway of the restaurant's choice, to allow customers to complete payment online.
Request amenities and other services
Hotels can also make available through the app a selection of amenities, merchandise or additional services, that the guests can purchase via online payment or add to the room bill.
Express Check-out
Allow guests to login into the app and consult the amount of their expenses and additional costs along their stay. All the information is automatically synchronised with the PMS. The guest can order an Express Checkout in the App and the PMS will charge the Credit Card on file that was pre-authorised in the online check-in.
We integrate with payment gateways for more security and support of multiple methods!
By integrating with our key payment partners, it is possible to build a very complete contactless journey for your guests. This process is fully automated, as our platform integrates with leading PMS to optimise your operational efficiency and reduce unnecessary touchpoints, making it easier to manage all aspects of the stay.
All guest data is encrypted, and payment information is tokenised through integration with secure payment gateways.
"The ability to integrate easy payments in the guest journey has become a major imperative for many hotels. Mobile payments are a crucial component in giving guests more autonomy from online check-in to express check-out. This allows hotels to offer them a more seamless stay, as it also brings more efficiency to their operations."

Manuel Lima

Mobile Business Unit Director at Nonius