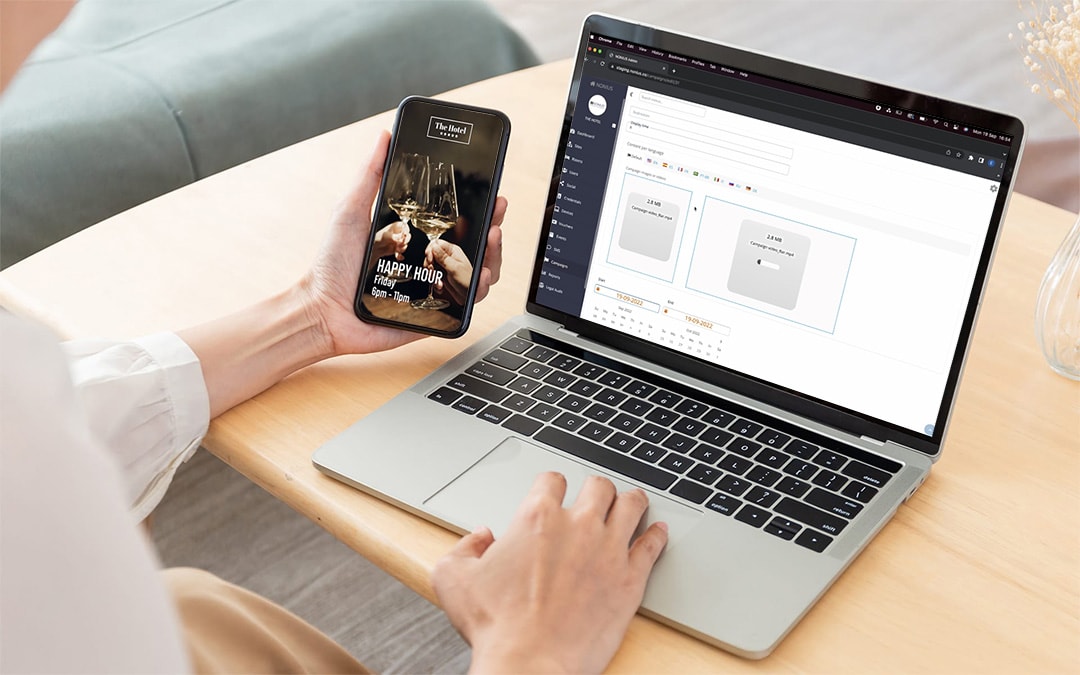 Guests will watch your full-screen, high-impact video! Content that you can upload, schedule and change at any time.
Who doesn't expect to have a Wi-Fi connection as soon as they arrive at the hotel? That's why hoteliers should prioritise this communication channel – Wi-Fi – and do more than just redirect guests directly to the hotel login portal. Instead, they can deliver a better digital experience to users by engaging and communicating with them. 
Save money and time with digital advertising while adopting an environmentally friendly attitude. Turn guest Wi-Fi into a key marketing tool by creating targeted campaigns to increase cross-sell and upsell chances, advertising opportunities and guest retention.
Leveraging Wi-Fi for Marketing
In general, Wi-Fi marketing is a very cost-effective branding method and can include several methods:
The splash page includes all the information about your branding, content, and logo. To access the Internet, the user must go through the page and may end with the action of visiting the hotel website. 
Guest information collection for email campaigns
The user fills in the required information such as name, email address, and phone (and any data that hotels want to collect). This information can also be captured and validated using social media login.
Splash page video campaigns
Any video about your property and your service offer can be uploaded and played as advertising. Hoteliers share that content with guests. All users will watch the video from start to end before accessing the Internet. The video will be available in the zones you think are appropriate – you decide!
Would like to watch how this works? See the video below!
Splash page video campaigns made easy
Check out how you can easily set up a campaign with a few clicks:
Feature availability for current clients
If you are already our client (you have our Nonius Internet Access Management Solution) and you want to activate this module, please contact us! 
The feature is available with the Guest Internet Access cloud-based platform we have been deploying since 2018. The feature is not available with the premises-based solution we have been deploying since 2005. If you want to migrate your existing on-premises appliance to the cloud, we will make it easier for you to move to the cloud.  
"The Hotspot Login page has always been a pivotal engagement point for Hoteliers to reach out their guests. The system provides easy out-of-box features that aids in this communication process, enabling many ROI opportunities. The team is eager to hear from you and help you further in refining ways to make all these practices even more seamless while approaching your guests."

Luis Araújo

Product R&D Director at Nonius