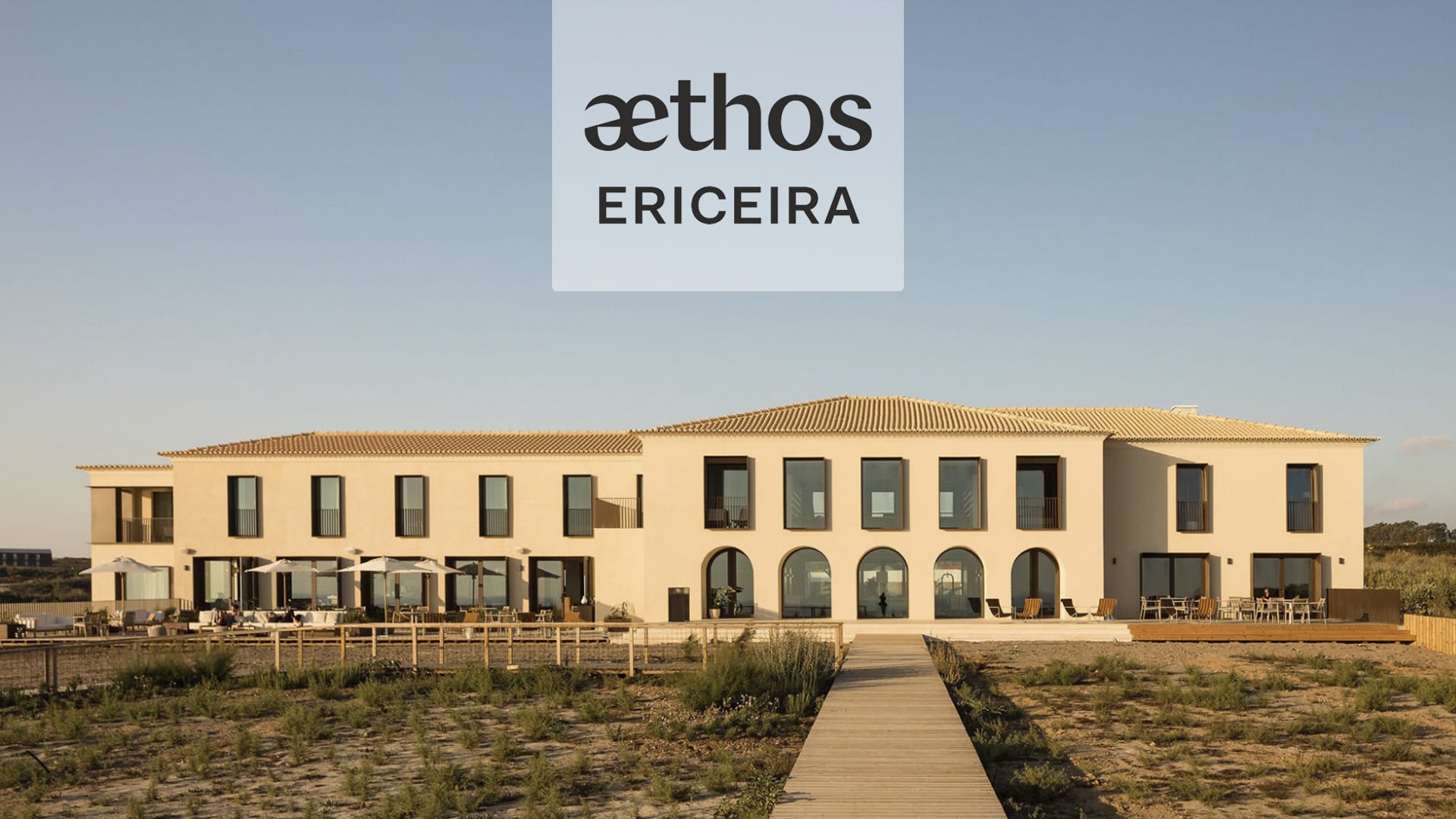 The newest luxury hotel in Portugal's most popular surf destination was inaugurated in late 2022 with a complete pack of Nonius' technology solutions.
The Aethos Hotels group chose Ericeira to host their first property in the country and trusted Nonius to offer all of the elements necessary for a digital guest experience. This means that guests are fully immersed in the Aethos way of life as soon as they check-in for their stay, from branded Wi-Fi and TV portals, Cloud Managed Cast for all 50 rooms and modern Wi-Fi connected in-room phones.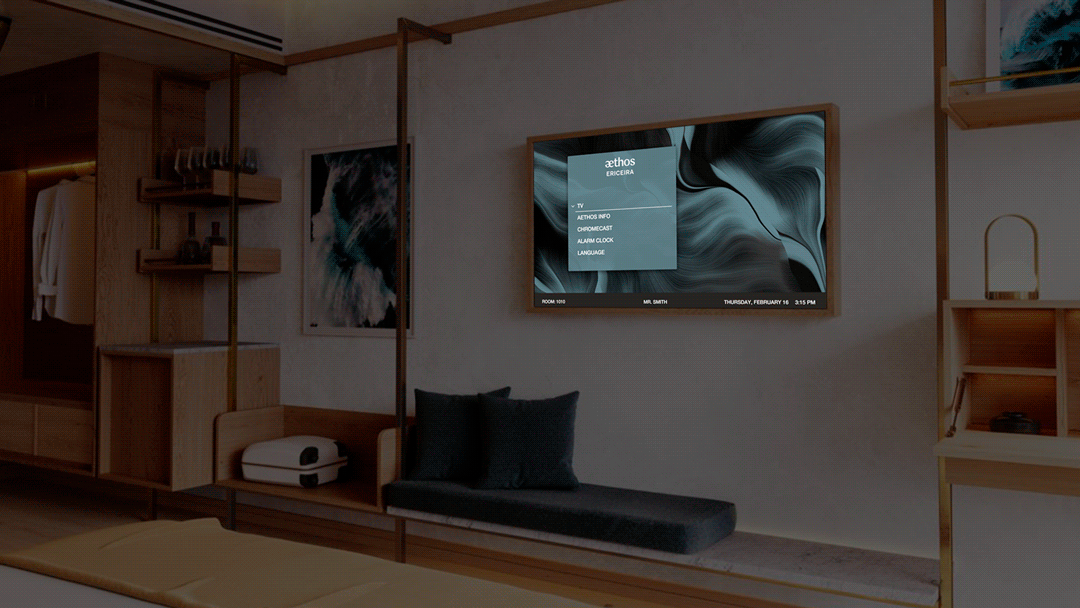 Post-surf sessions in-room entertainment
After catching some waves in the beautiful beaches of Ericeira, guests want to relax and cool down to restore their energy. They can choose between booking a yoga class or a massage at the spa and then head upstairs to enjoy the best in-room entertainment. With numerous TV channels available for all tastes and a Chromecast solution for them to connect their own devices, guests can really feel at home at Aethos Ericeira. Finally, to make sure they don't sleep in and miss their surf session on the next day, they can also set up an alarm in the room TV.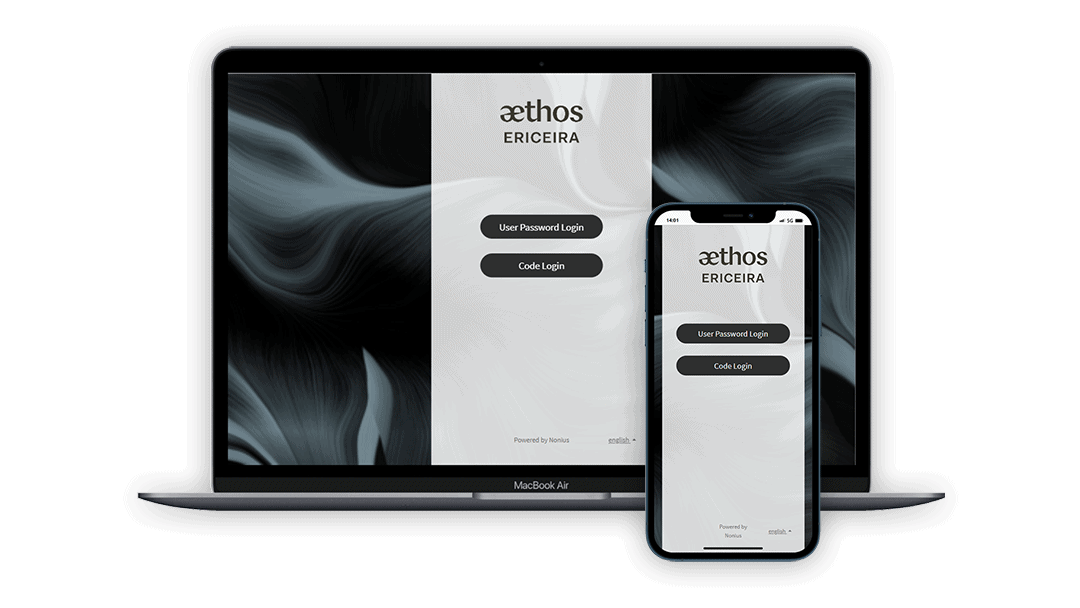 Brand promotion for full immersion
The Aethos brand is definitely one to remember, leaving a positive impact on all guests who stay in one of their hotels. To make sure guests are fully immersed and connected to the Aethos lifestyle, the hotel chose to implement branded Wi-Fi captive portals. This ensures that they have their first contact with the brand as soon as they wish to connect to the Internet. Speaking of connectivity, the Ruckus Wi-Fi installed by Nonius was carefully planned to reach all areas of the property.
Modern solutions for a world-class property
The rooms and common areas of Aethos Ericeira allow guests to relax with amazing views and comfort. To guarantee that our solutions matched the environment, all room phones are connected via Wi-Fi. The wireless phones have no connecting cables, which perfectly suits the natural feel of the rooms.
Finally, due to Integrations Hub, our solutions are seamlessly connected with the hotel's PMS Mews. This allows the staff to streamline their operations by having all guest information integrated with their technology systems.
"Aethos Ericeira project would not have been possible without the contribution of Nonius, a market leader in the industry. Their high level of professionalism, particularly in technical knowledge combined with their ability to meet deadlines, enabled us to have an integrated solution for a better digital experience for our guests."

José de Brito

Hotel Manager at Aethos Ericeira
"Nonius is incredibly proud to have been chosen by Aethos to implement an integrated solution in their Ericeira unit, which includes tailored solutions with Cast, TV, Telephony, and Mobility to support guests' digital journey. Aethos is known for providing sophisticated and elegant services to their guests, so their decision to partner with us is a clear indication that we're on the right track. We firmly believe that our work at Aethos Ericeira exemplifies our commitment to our partnership to support and innovate the guest experience across Aethos's beautiful hotels."

Andrade Santos

Key Account Manager at Nonius Portugal